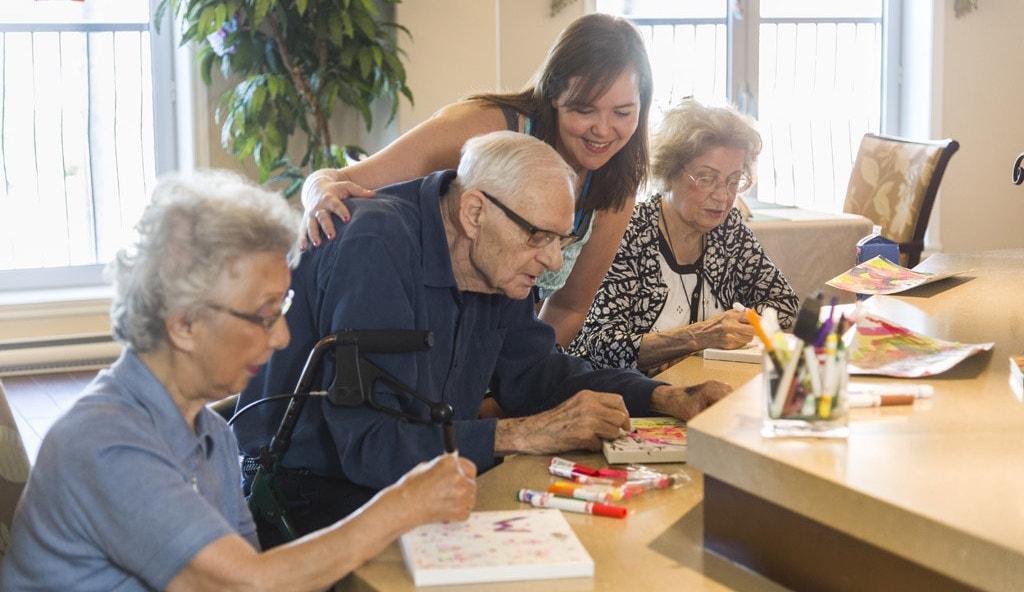 Supporting Those with Memory Impairment
According to the latest information from the Alzheimer's Association, an estimated 5.5 million Americans of all ages are living with Alzheimer's disease in 2017, with 5.3 million being those age 65 or older. In the coming years, that number is expected to rapidly increase, as the population of Americans age 65 and older is projected to nearly double from 48 million to 88 million by the year 2050.
This means that in the near future, it's going to be more important than ever for senior living communities to offer supportive memory care services to current and potential residents. While family caregivers often provide in-home care and assistance to aging loved ones facing cognitive decline, a memory care neighbourhood offers more comprehensive services and support that improve quality of life for the individual with dementia.
What Services do Memory Care Neighbourhoods Provide?
Along with assisted living communities, memory care neighbourhoods are one of the fastest growing options for residential senior care in the country. In fact, the U.S. Department of Health and Human Services estimates 70% of people age 65 and older will need some form of care in the future.
Memory care neighbourhoods often provide typical assisted living services, like help with daily activities and medication management, but they also offer more specialized care. Often, assisted living communities will have a designated wing devoted to residents in need of memory care, which provides a more secure environment and a staff that has been specially trained in treating residents with dementia and Alzheimer's disease.
In many memory care neighbourhoods, activities and events are customized to those facing cognitive decline that can enhance their lives. Sensory stimulation, music and art therapy, along with cognitive, physical, and occupational therapies are often includes in the services offered to residents.
Researching Memory Care Neighbourhoods – Questions to Ask
When researching a memory care neighbourhood for loved ones, it's important to think about the level of care they require so you choose a community that best fits their needs. Here are a few questions to keep in mind or to potentially ask the staff when you're taking a tour of the neighbourhood:
Does the neighbourhood accommodate individuals throughout the various stages of dementia?
Is an assessment done to determine the residents' cognitive function and overall health? If so, how is the assessment repeated regularly?
What's the resident-to-staff ratio?
Does the staff have special training in memory and dementia care?
Do residents have individualized care plans?
Is support and education available for families of residents?
Is the neighbourhood pleasant, clean, and have good lighting? Is it a comfortable and soothing environment?
Are methods set in place to reduce wandering? Are the buildings and grounds secure?
What types of activities are offered to the residents? Are there things your loved one would enjoy partaking in?
Creating a Home with Symphony Senior Living
Symphony Senior Living is renowned for our leadership and expertise in the field of memory care. Our memory care program, Moments®, was developed by Symphony with the assistance of several long standing experienced members of the dementia care community in both the U.S. and Canada. We continually incorporate the extensive data and cutting edge research of leading organizations such as The Alzheimer's Society, Women's Brain Health Initiative and many others to provide the best possible memory support for our residents. Contact us today to learn more about our supportive, innovative memory care program or to schedule a personal tour.