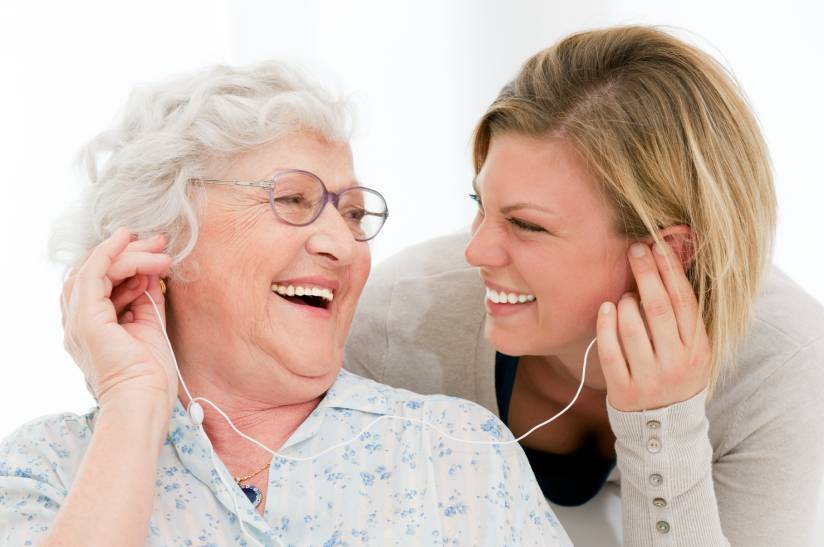 There's nothing quite like turning on the radio and hearing your favorite song. In fact, studies show that listening to music can reduce stress levels, enhance your mood and improve sleep. But the healing powers of music don't stop there. For the nearly 44 million people worldwide living with Alzheimer's Disease, music can also be medicine.
What Is Music Therapy?
Music therapy uses music to address emotional, cognitive and social issues in children, teens, adults and seniors. While the exact methods used by a music therapist vary based on the needs and goals of the individual, activities may include listening to music, singing or playing a musical instrument.
Music takes little to no cognitive processing at all, making it a successful therapy program for those throughout the stages of dementia. Even those in the later stages of the disease are able to engage with familiar music, especially rhythmic playing and singing. For this reason, many senior living communities have made music therapy an essential component of their memory care programming.
Benefits of Music Therapy for Alzheimer's and Dementia
Numerous studies show the positive impact music therapy can have on those with Alzheimer's and other forms of dementia, including its ability to reduce agitation and improve behavioral issues as listening to music can have a calming, relaxing effect. This is especially true for those also effected by Sundowner's Syndrome, who have been shown to react positively to slower, melodic ballads or lullabies before bed.
Additionally, music therapy has been shown to impact the following:
Cognitive skills. Studies show that music therapy can improve thought process and memory retention. In fact, for those living with Alzheimer's, listening to a song that was popular when they were a child or young adult may even help evoke lost memories.
Physical skills. Whether it's clapping, tapping your foot, bobbing your head, or even dancing, music generally leads to movement. This is also the case for Alzheimer's residents who generally show signs of improved endurance and coordination as a result of regular music therapy.
Communication skills. Music therapy has been shown to help Alzheimer's and dementia residents speak more clearly, answer questions and make decisions. It may also help slow the deterioration of speech and language skills or help those who have become nonverbal regain the ability to speak.
And because listening to music is often a social activity, music therapy may also help alleviate feelings of isolation and depression in those with Alzheimer's or dementia.
Memory Care Support at Symphony Senior Living
Music therapy is just one way those with Alzheimer's and other forms of dementia can ease their symptoms. At Symphony Senior Living, our "Moments®" Memory Care program incorporates a number of alternative treatments and therapies, including the Music and Memory℠ program, to ensure seniors are able to maintain an active, healthy lifestyle, while also ensuring their safety and security.
Contact us today to learn more about our memory care living options for seniors with Alzheimer's or dementia.