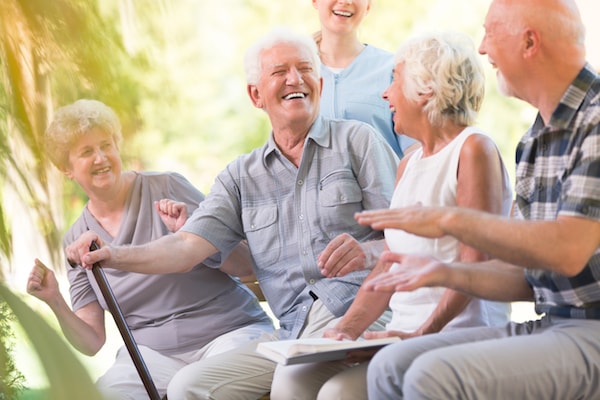 How Life Improves after Moving to an Assisted Living Community
Many seniors fear losing their independence as they age. It's understandable then that your aging parent or loved one may be hesitant when they hear the phrase "assisted living." Unfortunately, far too many seniors have the misconception that "assisted" equals a lack of independence. However, any assisted living resident will tell you that moving to a community has only enhanced their way of life.
5 Benefits of Assisted Living for Seniors
Healthy, home style meals made for you. Many seniors, particularly those living alone, neglect to cook for themselves. Assisted living communities ensure every senior, regardless of any special dietary restrictions, has access to wholesome, nutritional meals. The community dining setting ensure each meal is social and that no senior is left to eat alone.
Nothing to maintain or clean. As you age, it can be difficult to maintain an entire home on your own. An assisted living community offers easy, maintenance-free living and apartment style settings that are built with the needs of seniors in mind. Additionally, assisted living communities provide a safe living setting that can help seniors reduce their risk of a potentially devastating fall.
Lots of opportunities to socialize. Staying social is one of the keys to healthy aging. In fact, remaining social as you age can actually extend your life expectancy. Living alone can make it difficult to remain social. One of the most important benefits assisted living communities offer include providing ample opportunities for seniors to stay socially involved with others, no matter their age.
It's easy to keep your mind and body active. Living in an assisted living community means never being far from activities designed to help keep your body and mind active and healthy. For exercise classes to arts and crafts to local outings, there's also something new to try and discover.
Access to assistance 24/7. One of the key benefits of moving to an assisted living community is regular assistance with daily activities such as medication management, dressing, eating and more. Having this level of assistance not only helps seniors stay healthy, but ensures they are never held back from enjoying all that life has to offer.
The decision to move to an assisted living community is not always an easy one. If your aging parent or loved one is struggling to maintain daily tasks, living alone, or having difficulties managing medications or a chronic condition, it's time to speak with them about the benefits of moving to an assisted living community.
Assisted Living at Symphony Senior Living
At Symphony Senior Living, we offer everything seniors need to ensure they stay happy and healthy as they age. We ensure every resident is able to live life on their own terms in a safe, secure community setting. Our& assisted living communities offer seniors 24/7 care and support for daily tasks, nutritious and delicious dining options, a robust social and activities calendar and so much more.
Is assisted living right for your aging parent or loved one? Contact us today to learn more about our services and amenities and to take a tour of one of our communities.