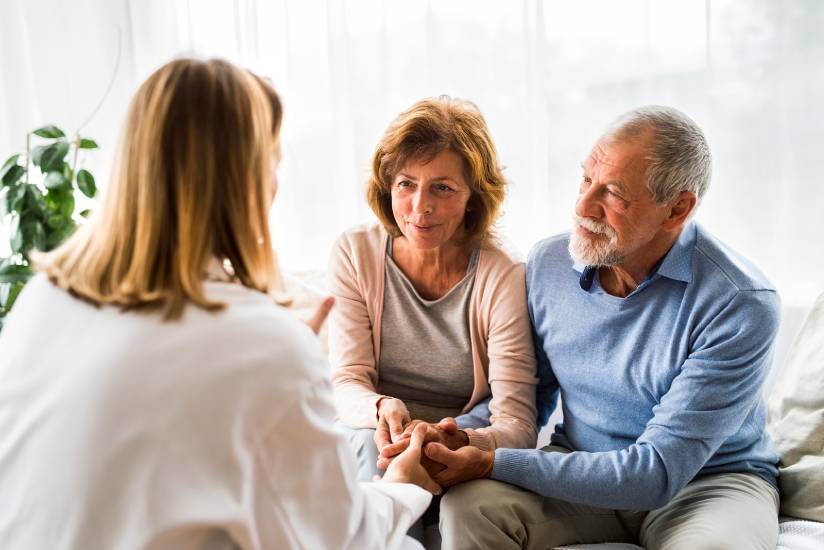 A diagnosis of dementia can be difficult to accept. However, this is the reality for nearly one in every 10 seniors over the age of 65. Dementia is not a specific disease, but an umbrella term for several conditions that impact memory and cognitive abilities, including Alzheimer's disease, which effects over 700,000 people in Canada and nearly 44 million people worldwide.
There is currently no cure for Alzheimer's or any other forms of dementia, however, over the past 10 years there have been numerous advances in the detection and treatment of these conditions, including therapies that may slow the progression of the disease.
While these advances can bring hope to those diagnosed with a form of dementia, it does not change how difficult it can be for both patients and their loved ones to deal with a dementia diagnosis.
What to Expect After a Dementia Diagnosis
Those effected by dementia often experience a wide range of emotions following their diagnosis including denial, anger, anxiety, fear, sadness and depression. Others report feeling embarrassed by their diagnosis and work to keep it a secret.
In some cases, a diagnosis of dementia can even bring on feelings of relief, as you and your loved ones have a definitive answer as to what's causing the cognitive or memory loss issues they are experiencing.
Whatever you're feeling, here are a few things you can do to cope:
Document your feelings in a journal or confide in a close family member or friend. Something as simple as just talking about what you're feeling, whether out loud or on paper, can be helpful in dealing with the many emotions a dementia diagnosis can bring. Or consider joining a support group for those in the early-stages of dementia. The Alzheimer's Society of Canada offers several resources for those in the early stages of this disease.
Have frank discussions with your doctor about treatment or therapy options. It's important to confide in your doctor about what you should do next, as well as the anticipated progression of the disease. If you are not comfortable or confident in your doctor's response, don't hesitate to seek a second opinion.
Maintain a healthy, active lifestyle. While there is no cure for dementia, maintaining a healthy, active lifestyle may help slow the progression of these disorders. It's important to stay socially active eat healthy, get the recommended 7-8 hours of sleep each night, and exercise regularly.
Plan for the future. Work with your family and friends to develop a plan of action for helping you live the healthiest, most independent life possible as your disease progresses. Be sure to consider things like how long your current living arrangement will be conducive to your disease, as well as important financial considerations. These conversations can be difficult, but having a plan can help put everyone at ease.
What to Expect as a Dementia Caregiver
As a caregiver of a loved one recently diagnosed with dementia, you should also expect to feel the same range of emotions your loved one is experiencing. Here are just a few things you can do as a caregiver to help both you and your loved one:
Educate yourself on the disease. Much of the stress and fear caregivers have is due to simply not knowing what's next. Speak with your loved one's doctor to better understand your loved one's prognosis. He or she will likely have additional resources to help you educate yourself on what's to come.
Spend quality time together. There is a difference between caring for a loved one and spending time with them. Take moments each day to do something you enjoy together. Whether that's watching a tv program, reading a book, listening to music, taking a walk or completing a puzzle, it's important to have some fun and continue to create memories together.
Take time for yourself. Caregiver burnout isn't good for you or your loved one. Take time each day for self-care. Maintain a healthy diet, regularly exercise and reach out to other family members or friends for help when you need a break.
Be realistic in your expectations of both yourself and your loved one. Caring for an aging parent can be stressful and tiring, and caring for an aging parent with dementia comes with its own set of difficulties. Be realistic in what your loved one is able to do on their own, as well as your ability to take care of them in a way that is healthy for both you and them.
Find Support After a Dementia Diagnosis at Symphony Senior Living
At Symphony Senior Living, we understand the unique needs those with a dementia diagnosis require. Our "Moments®" Memory Care Program incorporates data and resources from leading memory support organizations such as The Alzheimer's Society, Women's Brain Health Initiative and more to ensure every resident has the best possible care for Alzheimer's and other forms of dementia.
If you or your loved one has been diagnosed with dementia, contact Symphony Senior Living to learn more about our memory care communities and our various programs designed to slow the progression of Alzheimer's and dementia.