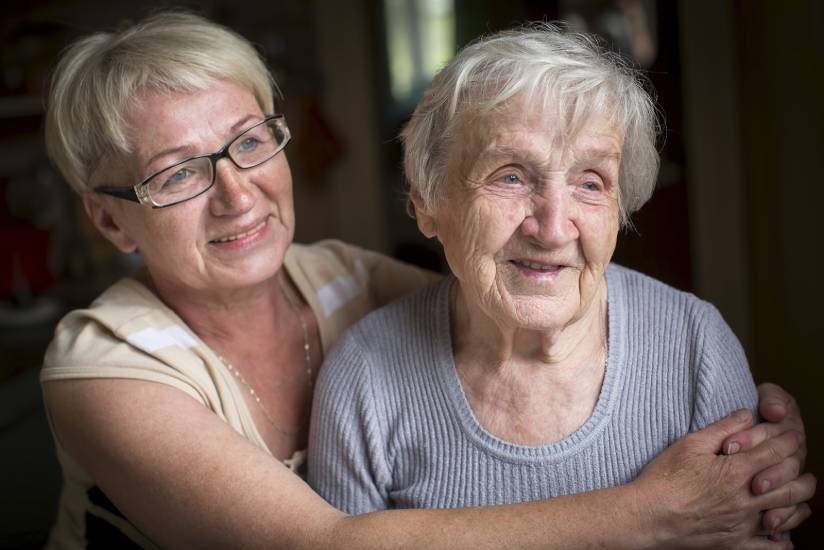 According to the Alzheimer's Society of Canada, nearly half a million people in Canada are living with some form of dementia, with approximately 25,000 new cases diagnosed each year. A diagnosis of dementia brings a whirlwind of emotions for both patients and their caregivers. And while caring for a family member or loved one who has been diagnosed with dementia can be extremely rewarding, it can also be extremely difficult.
Caring for an Individual Living with Dementia
If you're the caregiver of someone who has been diagnosed with dementia, here are the top 5 things you need to know:
Change the way you communicate with your loved one. Dementia can change both your loved one's ability to communicate and their personality. Because of this, caregivers need to always be mindful of how they're speaking and interacting with their loved one, especially as the disease progresses. Keeping a soft, positive, calm tone, limiting distractions, asking simple questions and focusing on nonverbal cues can help both you and your loved one better understand each other.
Assemble a care team and support network. While you may be their primary caregiver, it's important to remember you're not alone. After a diagnosis of dementia it's important to take the time to determine who will be on your loved one's care team and part of their support network. This could include physicians you trust, close family members or even close friends who are ready to be available for both you and your loved one should you need them. Keep this team informed as your loved one's condition advances and be sure to reach out to them for anything you need.
Educate yourself and never be afraid to ask questions. Dementia comes with a lot of unknowns. And because it comes in so many forms and is unique to each person that it affects, this can lead to a number of questions on the part of the caregiver. There are a number of reliable resources and local support groups, such as those from the Alzheimer's Society of Canada, that can help you find the answers to any questions you have and educate you on your loved one's condition. Your loved one's physician can also be a highly valuable resource and can work with you to put together a care plan that's best for your loved one.
Stay focused on your loved one's "cans" and not just "can'ts". It can be hard to watch your loved one struggle to perform simple, daily activities they once performed on their own. But resist the urge to just do everything for them. Even if a task takes them a little longer than it once did, as long as it's not causing them high levels of frustration or posing a safety threat, allow them to do the things they can on their own for as long as they can. This can help them build confidence and maintain a sense of accomplishment.
Take time away for yourself each day and monitor your stress. Caregivers can't provide care if they don't first take care of themselves. While your main focus is on the comfort and care of your loved one, you also need to take time for yourself each day for self care. Something as simple as taking a short walk, going to an exercise class or reading a book can help lower stress levels and recharge your batteries. And make sure you take some extended time away as well. Lean on your care and support team for respite when you need it.
Find Support for Dementia at Symphony Senior Living
There may come a time when your loved one may require a higher level of care than you are able to provide. At Symphony Senior Living we understand how demanding it can be to care for a loved one with dementia. That's why our Memory Care Communities offer support for those effected by dementia. Through our "Moments®" Memory, we combine cutting edge research from organizations such as the Alzheimer's Society, as well as our own hands-on experience to ensure the unique needs of our residents are met.
Contact us today to learn more about our memory care programs for seniors with dementia and see how we're helping our residents and their caregivers make memories each day.