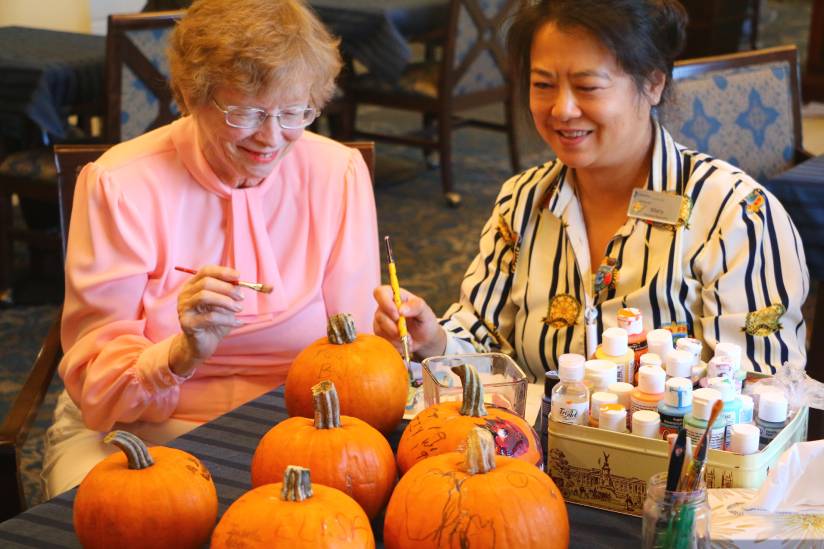 The weather is starting to cool, the leaves are being to change colours and it seems pumpkins are suddenly popping up everywhere. That can only mean one thing—fall is here! While the warm weather of summer is always welcome after a cold winter, many Ottawa seniors are excited to get out and enjoy the crisp temperatures of fall.
If you're such a senior, you're in luck, because Canada's capital city is alive and well with a number of great festivals and fun fall activities. Ready to get out an explore? Here are some festivals and events you may enjoy.
Popular Festivals
For those who want a spooky experience…
HAUNTING SEASON & FRIGHTFEST
WHEN: Sep. 22, 2018 – Oct. 31, 2018
WHERE: Saunders Farm, 7893 Bleeks Road, Munster Ontario K0A 1B0
Head out to the popular Saunders Farm which transforms itself into an eerie fall experience during the month of October. During the day, enjoy over 35 spooky attractions like haunted hayrides, live shows, hedge mazes and more. Perfect for a day out with the family or grandkids!
At night, the farm transforms into Frightfest, complete with a ScareZone, street theatre, live shows, games and other activities. You can also find farm fresh street food and a tavern featuring local craft beers and other beverages.
Visit http://saundersfarm.com/ for more information and to inquire about ticket prices.
For those who enjoy a good story…
OTTAWA INTERNATIONAL WRITERS FESTIVAL
WHEN: Oct. 25, 2018 – Oct. 30, 2018
WHERE: Christ Church Cathedral, 414 Sparks Street
Since 1997, the Ottawa International Writers Festival has welcomed writers of all genres from science, history, poetry, biography, drama, fiction and more. There are a number of author sessions, readings and discussion groups, making this festival the perfect place to discover your next favourite writer. Discount tickets are available for seniors and there are a number of free events to enjoy as well.
Visit https://writersfestival.org/ for more information.
For movie buffs…
OTTAWA CANADA FILM FESTIVAL 2018
WHEN: Nov. 3, 2018
WHERE: Arts Court Theatre, 2 Daly Ave, Ottawa
This annual event features showcases Canadian films and filmmakers. And over the past four years, has included over 150 films. This year, the day-long event features 10 independent films. Get a glimpse at some of the talent Canada has to offer. Find a full listing of films, ticket prices and more information regarding the festival at https://ocanfilmfest.ca/.
For those who enjoy a good meal and fine wines…
OTTAWA WINE AND FOOD FESTIVAL
WHEN: Nov. 2, 2018 – Nov. 4, 2018
WHERE: EY Centre, 4899 Uplands Drive, Ottawa, Ontario
This is the 33rd year for this annual event which features samples and discussions on the latest and best in wine, beer, spirits and food from all around the world.
Visit http://ottawawineandfoodfestival.com/ to sign up for more information regarding tickets and more.
Other Things to Do in Ottawa
Festivals aren't the only thing you'll find in Ottawa this fall. Here are some other popular fall events:
Pumpkinferno: An indoor exhibit of close to 7,000 hand-carved pumpkins. Going on now through October 28th at the Parks of The St. Lawrence in Upper Canada Village every Thursday through Sunday.
Fall Rhapsody: Enjoy the gorgeous reds, oranges, purples, greens and more of fall every weekend until October 21st at Gatineau Park.
Local Farmer's Markets: Fall is your last chance to check out some of the great farm fresh food and local goods at many farmers markets in and around Ottawa. Click here for a complete list of farmers markets to check out before fall is over.
About Symphony Senior Living
At Symphony Senior Living, our mission is to ensure seniors have access to the amenities and services they need to enjoy retirement and live an active, fulfilled lifestyle no matter what their age. Our residents are ready to take on all that their senior years have to offer. Is a senior living community right for you or your loved one? Contact us today to learn more about our communities and to schedule a tour.