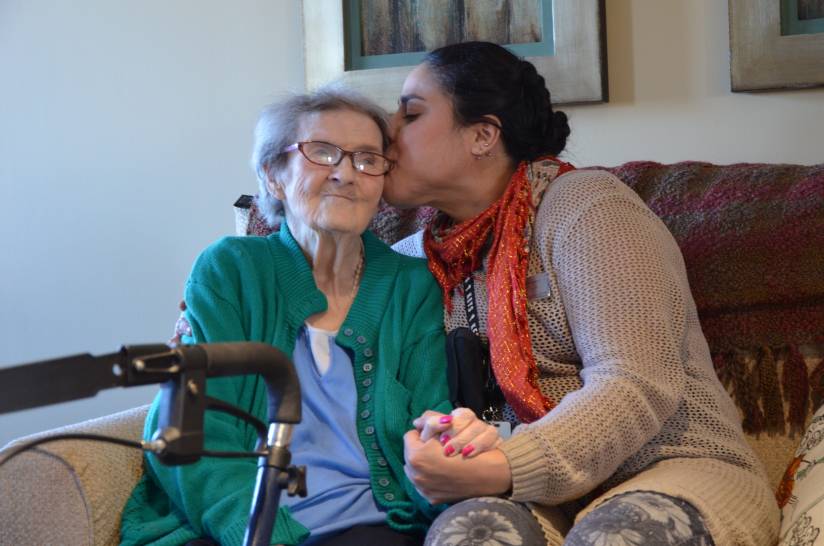 This Sunday, November 11th marks Remembrance Day. Many commemorate this day by wearing a remembrance poppy, which was inspired by the poem "In Flanders Field", written by Canadian physician, Lieutenant Colonel John McCrae and references the poppy flowers which grew over the graves of soldiers' graves in Flanders during World War 1.
While this day was originally established as a time dedicated to remembering those who served in The Great War, today, Remembrance Day has become a day to commemorate all veterans, including those who served in World War II and beyond. Because of this, it can also be a great opportunity to spark memories in loved ones suffering from cognitive decline or dementia.
According to the Alzheimer's Society of Canada, an estimated 564,000 Canadians are living with some form of dementia, including Alzheimer's disease. Approximately 1 in 3 of those diagnosed are over the age of 80. Seniors suffering from dementia often have trouble finding the right words to carry on conversations, issues recognizing certain friends and family members, and difficultly recalling recent events.
However, many in the early to mid-stages of dementia are often able to easily recall memories of the past, particularly from their teenage years and early twenties or thirties. Here are some conversation starts to spark memories in your loved ones this Remembrance Day.
Simply ask, remember when…?Your loved one has likely told you stories of either their past time in the serve, or what it was like living during war times. Remind them of those stories by simply asking "remember when…?". Be specific in the memory you recall and help guide them through parts of the story to spark memories and conversation. If your loved one is having difficulty recalling that memory, try another story.
Look at old photo albums.Old photos have a powerful way of sparking memories in those with cognitive decline. Pull out old photographs and ask your loved one about who is in the photo, as well as something they remember about them. Many times, this will spark them to remember other stories associated with those in the pictures.
Pull out mementos.Simple objects such as their favorite book from that time, a patch from their uniform, an old poppy pin or a piece of jewelry they received during that time can give your loved one something to remember and something to talk about. If there are particular objects that always seem to spark conversations, use them to create a memory box.
Listen to music.Music can have a powerful effect on those suffering from dementia, including the ability to reduce agitation and anxiety. Multiple studies show it can also help spark memories and make those with dementia feel more connected to the world around them. Search the internet for songs that would have been popular when your loved one served or lived during a war.
Look at history newspaper clippings or film clips online.YouTube, online libraries and other tools make it easy to pull up newspaper, film or even old news footage from virtually any time period. It can also give your loved one another opportunity to reminisce on key events that occurred throughout their lifetime.
Cook them an old family recipe.Invoking certain senses, including taste and smell is another way to spark memories in a loved one with dementia. Cook an old family recipe and share it together. Ask them about a time they remember having this recipe, where it came from and see what stories they have to share.
These conversation starters not only help your loved one feel better connected to the world around them, but is also a great time for you to create new memories with them. Be sure to keep conversations simple. Speak clearly and slowly. And be sure to look at your loved one while you're speaking and listen closely. This can help keep conversation moving and your loved one more focused on sharing something from their past.
Helping Spark Memories in Those with Dementia at Symphony Senior Living
At Symphony Senior Living, every day is a great day to create and share memories. Our Moments® Memory Care Program was developed to meet the unique needs of residents through all stages of dementia. We work closely with residents to provide a place where they feel relaxed, in control and comfortable.
If your loved one has been diagnosed with dementia, contact us today to learn more about our Memory Care living options.