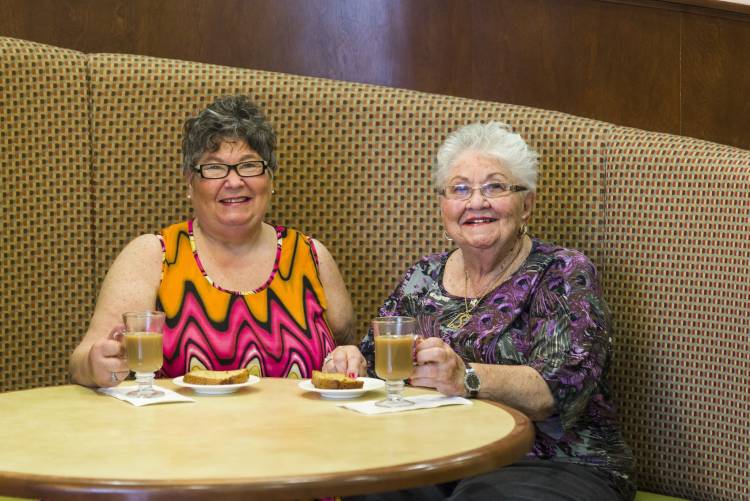 Maintaining a well-balanced diet is important for everyone, no matter what their age. But for the 500,000+ Canadians living with dementia, meal times can often be stressful and frustrating. While everyone's eating habits change over time, those with dementia often have issues chewing, swallowing or digesting food. And as the disease progresses, sufferers may experience a decrease in their ability to taste and smell.
Over time, these factors lead to a lack of interest in eating. In fact, it's not uncommon to hear of dementia patients being so frustrated by meal time that they refuse to eat. As a result, many of those living with dementia fail to get the nutrients they need to maintain a healthy weight.
If you're caring for someone with dementia, it's important to make the dining experience as pleasant as possible. Here are some tips for creating inviting menus for someone who is cognitively challenged:
Prepare foods that don't require utensils. Many dementia patients struggle to use forks and knives properly, particularly as their disease progresses. Finger foods such as bite sized sandwiches, cubes of cheese, fruit and vegetable plates, etc. can be picked up with the hands and easily eaten without utensils.
Incorporate color whenever possible. The ability to see color often decreases with age, making it tough for those with dementia to distinguish between their food from the plate it's being served on. Incorporating bright colored vegetables and meats on white plates can make it easier for those with dementia to see what is food and what is part of the table setting.
Focus on their favourites. While your loved one's tastes may change as their disease progresses, be sure to take note of their favourites and incorporate them regularly into their diet. Avoid incorporating new recipes or foods they aren't familiar with.
Opt for soft foods that are easy to chew. If your loved one has difficulty chewing, avoid hard foods such as nuts or carrots, which could become a choking hazard. Instead offer ground down or mashed versions of these foods, or offer soft foods such as eggs or cheese, which are easier to chew and swallow.
Offer smaller, more frequent meals throughout the day. Large meals can be overwhelming for someone with dementia and often take a long time to finish. Instead, serve smaller, more frequent meals throughout the day. Try to keep meal times consistent to help your loved one establish a regular eating routine and make sure they have plenty of time to finish their meals.
Always check the temperature before serving. Many dementia patients struggle to recognize if something is too hot or too cold. To avoid serving undercooked items or foods that could potentially burn your loved one, be sure to always check the temperature for them.
For dementia patients, healthy eating isn't just about what you eat, but where you eat it. Be sure to serve meals in a room with minimal distractions. Avoid loud noises and abrupt movements. Keep radios or televisions off and create a calm, unhurried environment. If possible, serve meals when your loved one is calm and alert. And keep it social by always eating together.
Memory Care Services at Symphony Senior Living
The needs of those with Alzheimer's and other forms of dementia vary greatly from that of other seniors. At Symphony Senior Living, our >Moments® Memory Care program was developed to ensure cognitively challenged seniors have the care and support they need. We work with residents and their families to ensure they have access to the services they need to continue to create new memories and share in new moments together. If your loved one has been diagnosed with dementia, contact us today to learn more about our unique memory care services.