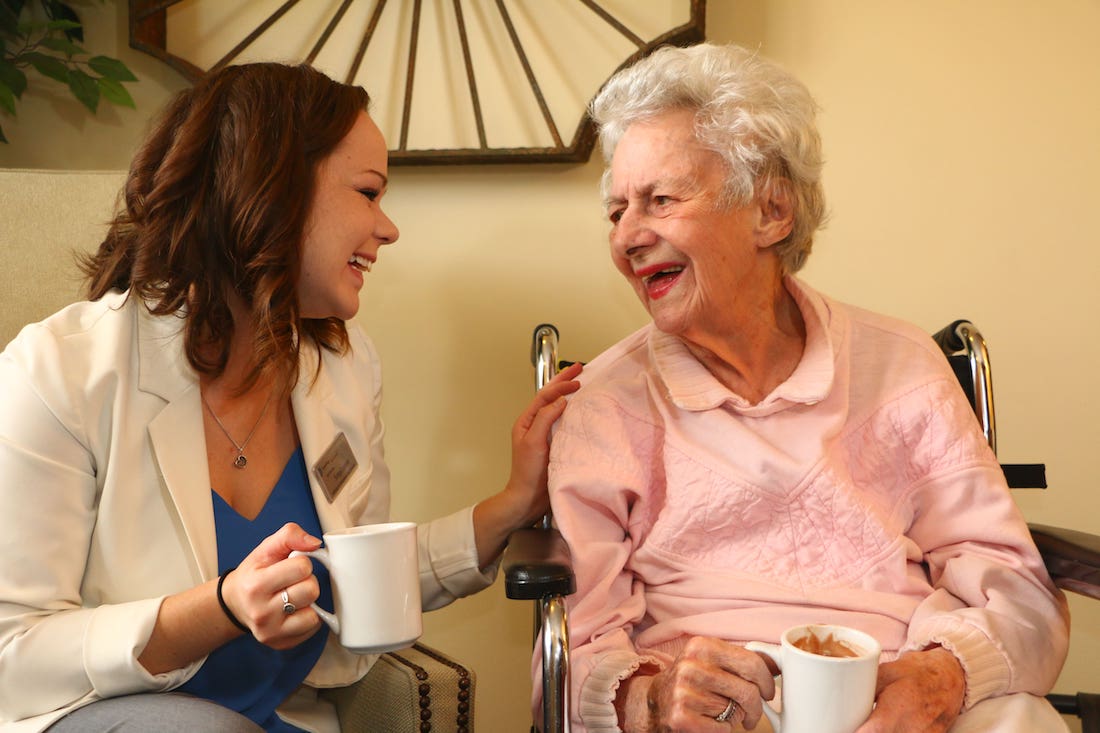 The senior population in Canada continues to rise. According to the 2016 census, for the first time seniors over 65 outnumbered children 14 and under. Additionally, the number of seniors age 80 and older are also on the rise. By 2036, nearly 3.3 million seniors will be aged over 80, nearly double the number from 2010.
Medical advances and lifestyle changes are helping seniors live longer than ever. Because of this, the number of senior living options, including assisted living communities, is also on the rise. With so many options, it can be overwhelming for families to choose the right one.
Is Assisted Living Right For My Loved One?
Making the decision to move a loved one to an assisted living community can be a difficult one. It can be difficult to recognize and accept that their parent or aging loved one needs more help than they once did. And for seniors, moving to an assisted living community may leave them feeling less independent.
While the conversation can be difficult, it's important for both you and your loved one to recognize when it's no longer safe or practical for them to live alone. Some common signs your loved one needs assisted living include:
Issues with mobility or a recent fall
Struggling to keep up with their home
Struggling to maintain personal hygiene
Unhealthy eating habits resulting in weight gain or loss
Issues managing medications for chronic conditions
Signs of cognitive decline
Benefits of Assisted Living
As previously mentioned, many seniors associate assisted living with a loss of independence. However, research shows that after moving to a community, the majority of seniors say they feel a greater sense of independence and are generally happier.
Moving your loved one to an assisted living community allows them easy access to assistance with activities such as dressing, bathing, cooking, cleaning, transportation, medication management and more, allowing them to live active, healthier and safer lives.
However, it's important to remember that assisted living communities are not one-size-fits-all. Each community has their own culture, amenities, services and philosophies for helping seniors get the most out of life.
Choosing an assisted living community can often feel overwhelming. If you and your loved one have come to the decision that an assisted living community is right for them, here are some common mistakes to avoid:
Choosing Location Over Services. Many children or caregivers of seniors often choose a community based on proximity to their home. Many feel this will make it easier for them to visit and, because they are so close, may put their loved one at ease. However, just because a community is convenient doesn't mean it has the services and amenities your loved one will require. Don't be afraid to expand your search area to ensure your loved one has access to everything they need.
Being Unrealistic About Future Needs. The community has everything your loved one needs today, but what about the future? Make sure you understand what services the community offers and how your loved one's needs can be met if and when they change. Make sure you also understand what's involved in the initial assessment of your loved one's needs, how often those needs are reviewed, and how you'll be informed of any recommended changes in services.
Picking a Community Based On Your Preferences, Not Your Love One's. If you're looking at a community and thinking you'd like to live there, you're not alone. Oftentimes, children and caregivers of seniors are intrigued by the amenities and programs offered at an assisted living community. However, it's important to remember you aren't the one living there. Make sure any community you select has activities and programs that interest your loved one, not just you.
Never Taking an Actual Tour of the Community. Every community is different. That's why it's so important to take the time to tour the community first. Actually seeing where your loved one will be living, what the atmosphere of the community is like, and even taking the time to have a meal in the dining room can make it easier to not only make a decision, but feel as though you've made the right one. Be sure to take your loved one, as well another close family member or friend on these tours as well. Including your loved one in the process is especially essential and can go a long way at easing any nerves or hesitations they have about moving.
Making a Rush Decision. The process of choosing an assisted living community is stressful enough. That's why it's important to have the conversation about assisted living as soon as possible. This can help you avoid having to make a rush decision and allow your loved one to be as involved in the decision process as possible. Having the time to consider multiple communities can also be helpful in ensuring you've chosen a community that is right for your loved one.
Assisted Living at Symphony Senior Living
Live life on your own terms. That's one of the main philosophies behind our "Oasis®" assisted living community. We believe needing a little assistance shouldn't hinder your independence, but enhance it. Our wellness team works with seniors and their loved ones to create an individualized care plan that meets their specific and unique needs. This is all in addition to our many amenities including an on-site salon, housekeeping, transportation, community outings, wellness programs, events, and more.
Contact Symphony Senior Living to learn more about our offerings and to set up a tour of our community.