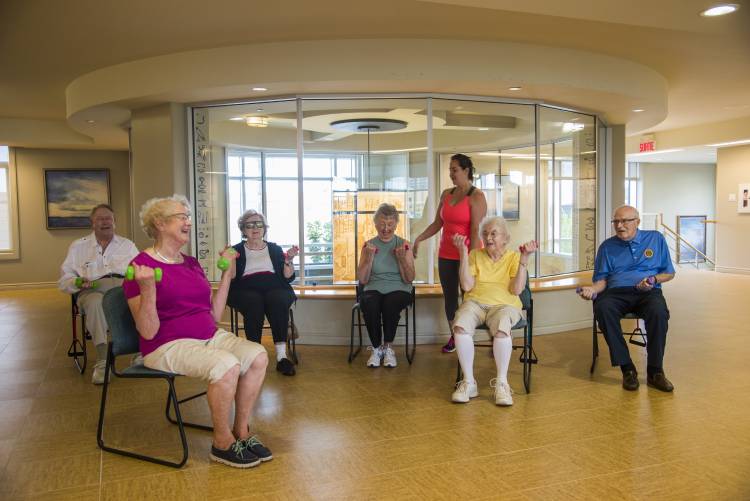 3 New Year's Resolutions You'll Want to Keep
It's hard to believe that the hustle and bustle of the holiday season is coming to a close and another new year is right around the corner. A new year means a fresh start and for nearly 69% of Canadians, that means it's time to set a few New Year's resolutions.
The custom of setting New Year's resolutions is not a modern one. In fact, historians have found evidence that this tradition has been going on for thousands of years.
And while not all resolutions are easy to keep, in fact, and estimated 73% of those making resolutions will break them, many say that just the intention of setting a goal can help you start the upcoming year off right.
Ready to start 2019 off with a fresh start? Here are 3 New Year's resolutions seniors will want to keep all year long:
Eat Healthier. After all the delicious, but often rich and unhealthy foods that come with the holiday season, January can be a great time to level set and get serious about eating a healthy, well balanced diet. Regularly incorporating fresh fruits, vegetables and lean proteins, such as chicken and fish, can help seniors age healthy while also helping reduce the risk of chronic conditions such as diabetes, arthritis, and high blood pressure. Regularly incorporating things like plenty of leafy greens, nuts and dark berries may also help keep your brain healthy as well.
Find New Ways to Be Active. new fitness program, volunteering at a local animal shelter, or starting up a weekly book club, there's so many ways seniors can keep both their minds and body's active all year round. This year, make it a goal to spend less time in the house, and more time staying active and social. Regularly partaking in social activities can help reduce feelings of isolation, depression and anxiety, and is an essential part of healthy aging and reducing cognitive decline. When combined with something physical, i.e. a walking club or a seniors-only fitness classes, staying active can not only keep your mind sharper, but can help reduce mobility issues, helping seniors start stronger, more active and more independent longer.
Declutter & Stay Organized. Maintaining a clean, organized home can help reduce allergens, decrease stress and anxiety, and improve concentration. The busy holiday season can often leave your home more cluttered than usual. As you're taking your holiday décor down, set an intention to get organized. Start by getting rid of unnecessary paper work and filing important things in a filing cabinet or safe. Then, slowly go through each room looking for unneeded or unwanted items. While it can be difficult at first for seniors to let go of certain items, decluttering can have an energizing effect. It can also mean having to spend less time digging through things you don't use just to find the things you need.
As mentioned, the majority of us setting New Year's resolutions this year are likely to break them. Want to make sure you're able to stick to them? No matter what new goals you set, be sure to start slow. For example, don't just change your entire diet overnight. Instead, slowly start incorporating new, healthier items, while also slowly cutting down on high sugar and high fat items.
Starting a new exercise routine? Slowly build up to it. Diving in to a new exercise program too fast and too hard can lead to injury. And make plans to mix it up by signing up for a variety of senior fitness classes and doing different physical fitness activities each day.
And don't just plan your resolutions for January – think long-term. What will you do in April to keep up with your new goal? Establishing checkpoints and mini goals to reach a more long-term goal throughout the year can help seniors stick to their resolutions longer.
Start 2019 Off Right at Symphony Senior Living
This year, many seniors will make a resolution to downsize to a senior living community complete with all the services and amenities they need to maintain an active, healthy lifestyle. If you or your loved one has considered making the move to a senior living community one of their resolutions, be sure to contact Symphony Senior Living. Our community options, wellness programs, healthy dining options and regular social activities are designed with the needs and desires of seniors in mind. Come see for yourself. Contact Symphony Senior Living today to learn more and to schedule a tour.