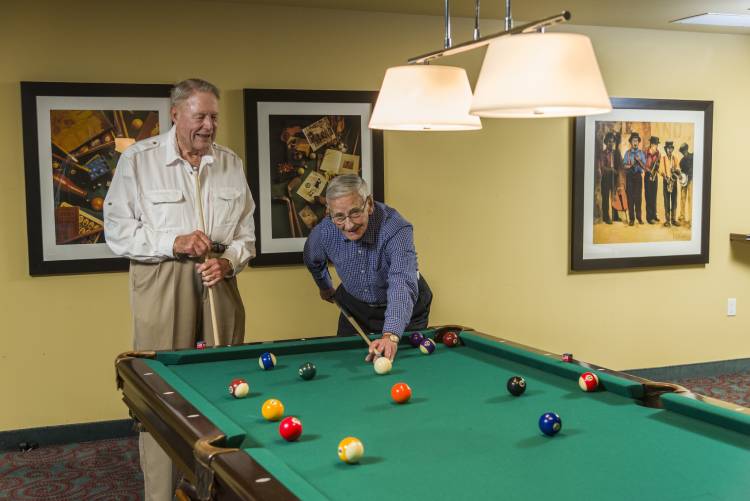 Benefits of Community Living in the Winter
Canadians especially are no strangers to winter weather. However, for seniors, the harsh conditions of winter can make it difficult to stay active and go about their normal routines. High snow accumulations, icy conditions and frigid temperatures can put seniors at a higher risk for potentially debilitating falls, frostbite and common illnesses such as colds and flu. Because of this, many seniors opt to stay indoors, leaving them feeling isolated and increasing their risk for anxiety and depression.
It's important that seniors are able to stay social and active all year long, no matter what the season or weather. However, this can be difficult to do, especially for seniors living alone. Here are some of the ways community living can benefit seniors during the harsh winter months and beyond:
Easy access to a variety of social activities and events. As mentioned, social isolation is a major concern for seniors and can increase your risk for developing symptoms of anxiety, stress and depression. Studies suggest it can also increase your risk for cognitive issues, including Alzheimer's disease. Living in a senior living community means never being far from fun activities that help seniors stay social and ensure they keep their minds active.
No need to drive in harsh weather conditions. Driving in winter conditions can be stressful. And as we age, our reaction times tend to slow, making driving in snow and ice even more dangerous to seniors than other age groups. At a senior living community, residents don't have to worry about transportation. Many of the amenities they need are available right in the community, including on-site, visiting physician appointments. Still have a reason to go out? Many senior living communities offer residents the ability to pre-scheduled transportation so they can get where they need.
On-site, nutritious dining options. Community living means never having to worry about what's for breakfast, lunch or dinner. In other words, seniors always have access to nutritious meals no matter how cold or blustery it gets outside. It also means never having to worry about stocking up at the grocery store or resulting to eating only pre-packaged canned soups or frozen meals which are generally high in sugar and sodium.
Access to a variety of fitness & wellness programs. Regular exercise can help seniors better maintain and even increase mobility, meaning they can lead more active, independent lives as they age. Living in a community setting allows seniors easy access to a variety of wellness and fitness programs, all designed to help seniors build strength, increase flexibility and improve balance.
Community Living at Symphony Senior Living
At Symphony Senior Living, we ensure seniors have access to the services and amenities they need to stay healthy, happy and active during the winter months and beyond. We help seniors live life on their own terms. That's the basis of our "Oasis®" assisted living community. This, in addition to our many services and amenities, including housekeeping, transportation, fitness and wellness programs, community events and more ensure residents are never far for the things they need. Contact Symphony Senior Living to learn more about our offerings and to set up a tour of our community.