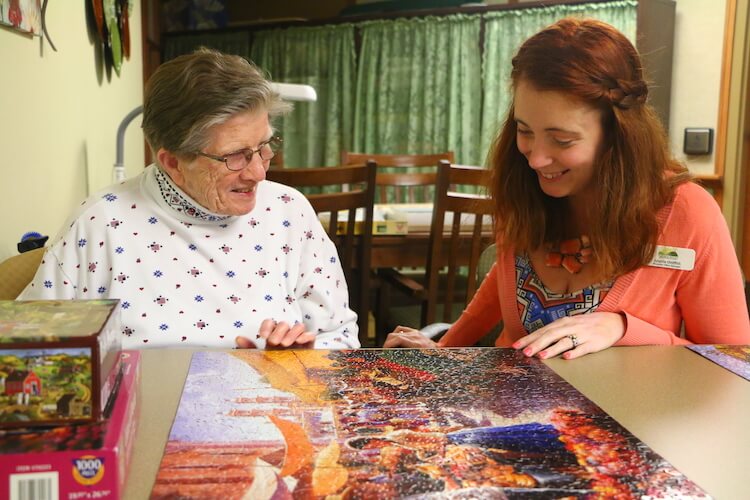 It's no surprise that Alzheimer's and dementia can be challenging for both the caregiver and the family member who is in need of memory care services. Now that you're considering a memory care community, you might be facing some difficult questions like: How do I know which memory care program is right for my loved one?
There's no easy answer when it comes to the health of a loved one, but rest assured you don't have to go through this alone. At Symphony, we've developed a suite of unique memory care services designed to let your loved one feel productive while maintaining a connection to who they are.
The "Moments®" Memory Care Program
The Moments Memory Care Program at Symphony meets each residents' specific needs through all stages of Alzheimer's, dementia and other memory impairments. Instead of just managing symptoms, Moments offers specific memory care services that are designed to slow the progression of Alzheimer's and dementia. The goal of the program is to give residents more opportunity to be their true selves, even if it is just for a moment. How do we accomplish this goal? One of the best examples that illustrates the process is our "Life Skill" Stations.
Throughout the memory care community, you will find a variety of Life Skill activity stations. These special areas were created to help resident's focus on family, hobbies, work or passions. One station may use clothing and vanities that simulate getting ready for a date, while others may have a baby crib to spark memories of early family life.
What makes Moments special is that it's a memory care program created to give your loved one the added support they need to tap into the experience that made them who they are.
Memory Care Services Built Into Technology
As you know, it's not always easy to find ways to connect with someone who is in need of memory support. Luckily, technology can be used to make a difference and bridge that gap. It's Never 2 Late® uses advanced computer technology to help residents engage their mind through the use of interactive games, activities and visual programming.
Residents can showcase their creativity and personality through a variety of interactive activities. This technology makes it easier for people in memory care living to share their personal experience with caregivers and family members. Your loved one will have a reason to come out of their room to discover an easy way to tap into long term memories that shaped their personality.
The Healing Powers of Music
Everyone has experienced the feeling of turning on the radio and hearing a song that brings about special memories. The healing power of music doesn't stop there. Music therapy has the ability to not only reduce agitation but improve behavioral issues due its relaxing effect. Sometimes, music can reach people in a way that words cannot. The Music and Memory℠ program introduces those in memory care living to the positive impact music can have on daily life.
Studies have shown that music therapy can improve thought process and increase memory retention. Music is incorporated into memory care services due to how it proves that just because something is lost, doesn't mean it can't be found again. For example, for someone living with Alzheimer's, hearing a song that was played at their wedding can unlock deeper family memories that can bring them joy. The Music and Memory℠ program helps seniors rediscover their connection to the world around them.
Memory Care Services at Symphony Senior Living
At Symphony, our memory care program ensures that your loved one receives the care they need to keep moving forward. Discover all our memory care services and contact us today for more information on how we can help your loved one rediscover lost connections.