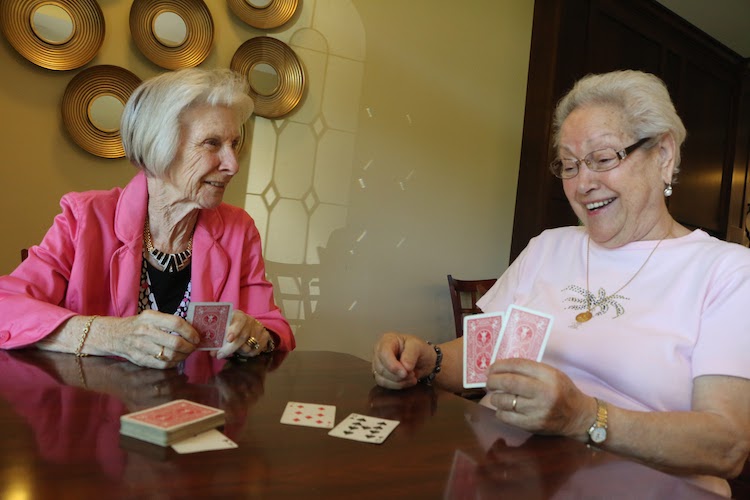 Moving into a senior living community can be an exciting transition. However, a common fear that some seniors have with this change is becoming socially isolated. While you probably already know the importance of friendship, actually making new friends in your community can sometimes be intimidating.
Senior living communities offer plenty of opportunities to get involved with others. They're filled with many people just like you who are looking to discover new friendships and share their passions. Here is a list of tips and socialization activities for seniors that can help make developing new friendships at a senior living community easier.
Don't Isolate Yourself, Step Out of Your Apartment
When you're living at a senior community it's easy to spend too much time in your apartment and become socially isolated. Your own space is familiar and supportive, but it's important to get out as well. One of the benefits of socialization for seniors is keeping your mind sharp by engaging in regular conversation with others. So how do you start? An easy way to get going is to take some normal activities you do in your senior apartment and move into a common area.
Once you're in a common area, plenty of solo interests can turn into social activities for seniors. For example, if you read a book in a common area instead of your apartment and see someone else doing something that catches your eye, talk to them about it. The more time you spend in common areas, the more chances you'll have to interact with other residents and develop meaningful connections.
Branch Out During Mealtime
Food has always been a way for people to socialize and form friendships. That's because mealtime offers fulfilling social occasions to look forward to each day. Meals are a great opportunity to introduce yourself to as many residents as possible. Finding the right group of people to share meals with will make your days more meaningful while giving you a group of friends to do other activities with.
How do you find the right group to enjoy meals with? An easy socialization activity for seniors is to sit with a different group of people for meals every day for a week. Share your interests and hobbies, talk about things you enjoy and see who you form connections with. A large part of the importance of friendship lies within the ability to be yourself.
Stay Open-Minded About the Importance of Friendship
Just like so many other things in life, experiencing fulfillment from friendships is not going to happen overnight. It's important to keep an open mind. Just because some of the socialization activities for seniors need time to develop, doesn't mean you should give up on them. Friendships take time to build, so try to relax and let your relationships develop naturally. Remember you can't force friendships to happen, all you can do is find opportunities to put yourself out there.
Senior living communities are great places to try and be more social. The benefit of socialization for seniors includes expanding your horizons and trying new things. Try not to write something off until you've tried it. You never know when going to a group activity can turn into a beloved hobby or friendship.
Socialization Activities for Seniors at Symphony Senior Living
At Symphony Senior Living, there are plenty of opportunities to develop friendships and share passions in our vibrant community. Learn more about Symphony Senior Living and the rich and rewarding culture our residents have helped build.