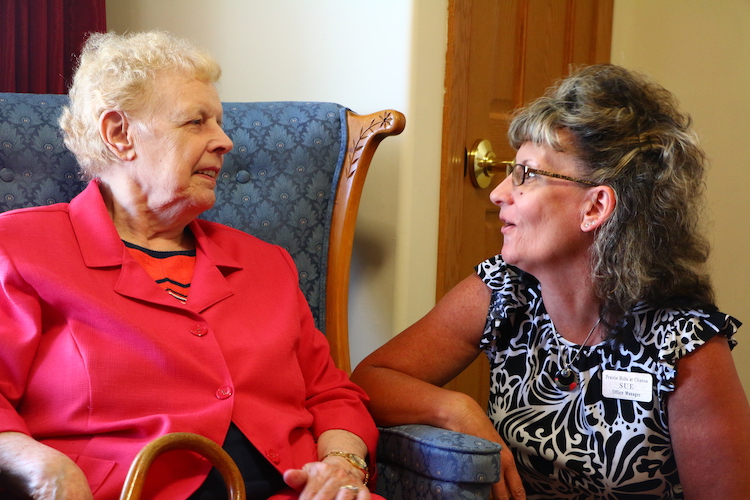 In most families, it's difficult to talk about death. The phrase "dying well" means different things to everyone, but there is a common thread of being pain free and having the love and support of family members. For loved ones in palliative care and hospice this notion is even more important. You may not want to think about your loved one dying at home, but there are steps you can take to ensure your loved one is more at peace.
Helping your loved one with dying well should be seen as an act of compassion. In this article you'll learn what dying well means, as well as steps you can take to help your loved one through a challenging time in their life.
Minimize Regrets
It's completely natural when someone is near the end of their life or in hospice, to feel the need to wrap up loose ends so that there are fewer regrets. The first thing you should do is to listen to your loved one and see if there are any final wishes that you or your family can help satisfy. You might not be able to fulfill every request but taking the time to listen is a great start. Having a conversation about final wishes can even be beneficial to loved ones in palliative care, so you can be more prepared should the situation change.
Once you have a conversation with your loved about their wishes, create a list and place the requests that are possible to fulfill at the top. As you make your way through the list, give updates to your loved on your progress. This can help them experience a greater feeling of peace which is crucial for dying well.
Your Loved One Is Where They Want to Be
At the end of your family member's life, they will most likely have some very specific ideas about where they want to spend the majority of the time they have left. For example, it is very common for older adults nearing the end of their life to explore the possibility of dying at home through hospice care. That means being in a comfortable and familiar environment surrounded by loved ones.
As you can probably guess, the key to this component of dying well is open communication. Talk to your loved one and discuss where they would like to spend the majority of their time. It's important to remember that while you might not be able to meet every request, making sure your loved one's decision is taken seriously can do wonders.
Make Your Loved Feel Heard
It's common for older adults nearing the end of their life to feel like they aren't heard by their loved ones any longer. As their caregiver, you want to make sure that your loved doesn't have to work harder to ensure that their wishes are being respected. While it's understandable that every wish can't be met, this facet of dying well begins with acknowledgment.
If possible, work through the wishes of your loved one with them. Even if there are some wishes you can't meet, the simple act of collaboration will make your loved one feel respected and valued. Remember that this is a time for understanding and creating a greater peace of mind for your loved one. Thinking about how to die well is just as challenging for your loved as it is for you.
Having these conversations isn't easy, but for you and your loved one, they create an opportunity to continue having a life worth living at one of the points it matters most.
The Symphony Difference
The Symphony Difference means taking the time to get to know our residents so that all their wishes are respected, especially those made in the later stages of life. We are proud to support helping residents transition back to their family if requested. Our expert staff can even help your family determine if palliative care or hospice is the right option for your loved one.
At Symphony Senior Living, our mission is to provide the highest quality senior communities in Canada. If you are caring for a loved one who is an older adult, contact us today to see why our greatest accomplishment is when we are chosen to be part of your family.