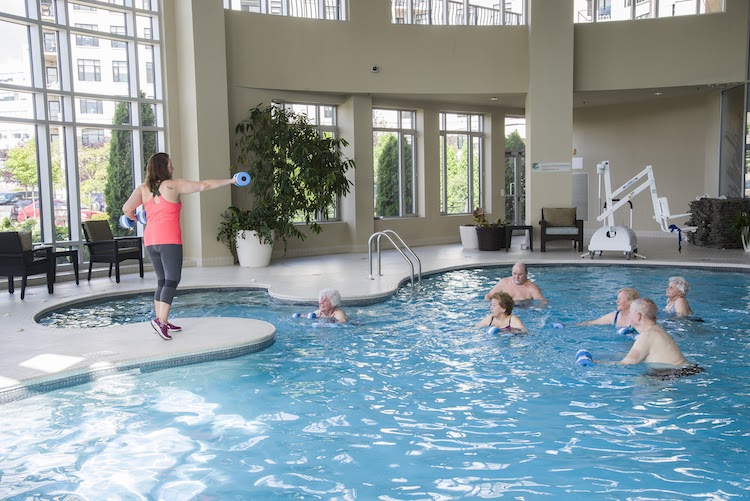 There was a time when you would look forward to grueling workouts that would push you past your limits. But let's face it, you're no longer in your twenties. As you age, it's important to focus on long-term wellness, especially low impact exercises that improve balance. According to the National Council on Aging, one out of four people over 65 fall each year.
There are plenty of low impact exercise options for seniors. These activities help build your balance while getting you more active and fit in the process. Think about it, less activity means less balance and strength which increases your risk of falling. In this post you'll learn three low impact exercises that will improve your balance. This is your chance to be better protected against falls while discovering new activities to enjoy.
Just Keep Swimming
It might come to no surprise that swimming is an amazing low impact exercise to improve balance. Not only is swimming good for your joints, but it strengthens muscles and prompts your body to work in concert. Unlike walking, swimming develops stronger core muscles, a key ingredient for strong balance. Since you're in water, it's the perfect low impact exercise for seniors. There aren't many exercises that have so many benefits while minimizing your risk of injury.
The benefits of swimming don't stop there. According to a recent study, seniors who swim are 33% less likely to have a falling injury. The key is that swimming involves multiple muscle groups moving at the same time. Given the range of motion required, swimming helps joints become looser and more flexible. Combine this with practicing muscle coordination to get a great low impact exercise that can drastically improve your balance.
Calling All Yogis
For many seniors, the fear of falling leads to them moving less. Being less mobile causes muscle stiffness, which will only increase the risk of a fall. Yoga has a natural mind-body component which helps improve balance while addressing that fear. This low impact exercise will have you forging a mind-body connection that can improve your quality of life beyond fall prevention.
The great thing about yoga, is that there so many poses that focus on balance. Those same poses also have a ton of variations to accommodate practitioners of all skill levels. In fact, if you're looking for low impact exercises at home, yoga is a great option. With a wide variety of tutorial videos and workouts online, it's never been easier to give it a try.
Is Tai Chi for Me?
Don't let the name fool you, Tai Chi is an ancient practice that focuses on physical and mental wellness. It's a low impact exercise that involves slow graceful movements. What sets Tai Chi apart is how practicing it gives you insight into biomechanics (how you control your movement). Tai Chi is a low impact exercise for seniors that helps maintain balance. It helps keep your ability of dual tasking (doing more than one thing at a time) strong, which decreases with age and is directly related to balance.
According to the National Center for Complementary and Integrative Health, Tai Chi helps improve balance and stability in seniors. As we get older there is a natural decline in muscle function. Tai Chi helps slow that process by combining core strengthening with mindfulness.
As always, before you start any of these low impact exercises or a new exercise regimen, consult your doctor first.
The Symphony Difference
At Symphony Senior Living, we're dedicated to helping seniors thrive. From offering a wide range of active programs and activities to fresh prepared meals, our amenities help you lead a better life. If you contact our staff today!