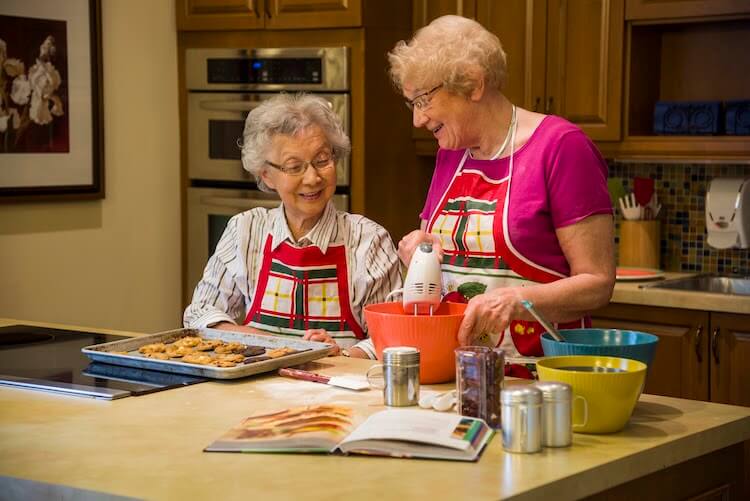 Companion living is a unique lifestyle offered at retirement communities. Since it first hit the scene, companion living has been growing as one of the preferred ways seniors choose to live. No matter your age, there is a natural desire to seek out social connections.
So, what is companion living? Companion living is when two seniors of the same sex share a room at a community. Both seniors have access to the full range of amenities and services and are often matched based on similar interests. But, before you say you're too old for a roommate, take a look at the top benefits companion living has to offer.
You Got a Friend in Me: 5 Benefits of Companion Living
1. Financial Savings
As you look for senior living communities, you've realized that sometimes it isn't the easiest transition to finance. But like when you went to college or had your first job, living with someone else lowers expenses. Not only can you afford more communities, but you have more money to spend on your passions. As you save, you'll also have peace of mind knowing your financial situation is more secure.
2. A Higher Quality of Life
Think of companion living is a way to start off your new lifestyle with a built-in friend. You'll have someone to discuss your interests and share experiences with. There's no question that increased happiness leads to a higher quality of life. Because after all, shared experiences are the root of joy. Unlike many other residents, you'll have a partner in crime to share a vibrant lifestyle with.
3. Better Cognitive Health
Did you know that by having someone to regularly talk to helps protects a senior's memory? According to new research, regular interaction helps your mind be more active which helps protect memory. It's no secret that memory declines with age. But the simple act of interaction with your companion can make a real difference. Companion living isn't starting to sound so bad.
4. Prevent Isolation and Loneliness
One of the best benefits of companion living is how it reduces feelings of isolation loneliness. When seniors first move to a community, it's easy to stay closed off and stay in your apartment. This can lead to depression and a loss of purpose. But luckily, companion living breaks through these concerns right off the bat. Think about all the good that will come from always having a friend within reach.
5. Peace of Mind for Your Family
Even if you're in a senior living community, there always a chance for accidents to happen. In fact, many of us know someone who fell or needed assistance in their apartment and couldn't get help right away. With companion living, that risk goes down since you'll have someone nearby who can help. You'll still have your independence, but your family will have peace of mind knowing there's someone looking out for you.
Now that you've read through our benefits of companion living, it's hard not to consider it as a great senior living option. After all, there are so many things in life that are better with a friend by your side.
Ready for a Vibrant Lifestyle?
At Symphony Senior Living, a vibrant lifestyle and expert services are waiting. We even have companion living options available. For more information on companion living or our approach to senior living, contact us today!