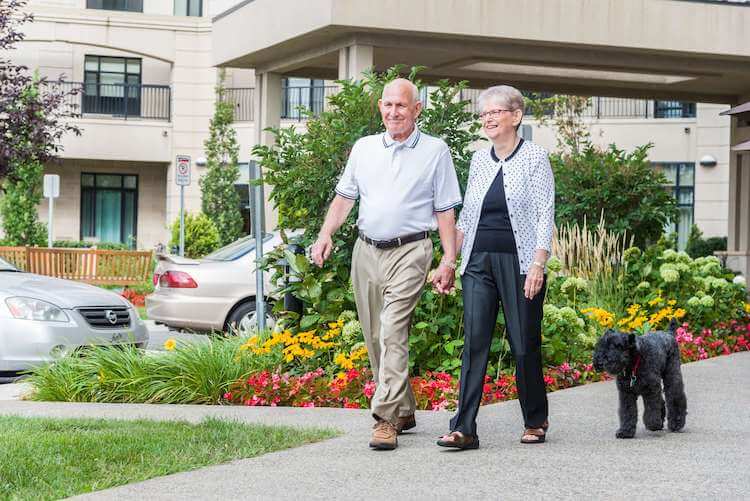 At Symphony, residents' needs come first. For us it's all about working hard every day to offer the best senior living options in Canada. In this article we're going to show you four short stories that will give you a clear picture of what life is like at a Symphony Senior Living community near you.
Symphony Senior Living Communities
Carleton Place Terrace
As the sun crests over the warm Canadian countryside, you take in the refreshing morning air from your spacious senior apartment. While you enjoy the stunning view, you have the peace of mind knowing the support to assist you with daily tasks is there if you need it. Enjoy lunch with freshly prepared meals in a charming dining room surrounded by new friends and neighbors. Take advantage of concierge services or venture out into the vibrant city of Carleton Place with help from our transportation services to enjoy dinner at great restaurants like Thirsty Moose Pub and Eatery.
Whether you're in need of assisted living, memory care or short-term respite care, Carleton Place Terrace lets you trade in household chores for meaningful connections.
Forest Valley Terrace
Surrounded by lush forest, Forest Valley Terrace is more than a community, it's a way of life. With pet-friendly senior apartments and common areas, each day is filled with the comfort of home. Relax with regular movie nights or keep your mind active with trivia contests. Enjoy a home-cooked meal with friends and neighbors. No matter how you want to live, our amenities are designed to help everyone at our community have meaningful experiences.
We offer memory support, assisted living and short-term respite care for or your loved ones in our convenient community located on St. Joseph Blvd in Orléans, Ontario.
Symphony Kanata
At Symphony Kanata you'll find yourself in natural surroundings where the beautiful winding trails of the nearby South Marsh Highlands Conservation Forest are an extension of your new home. From organized activities and excursions to town, each turn brings a new experience just waiting to be explored. Discover a Symphony Senior Living community near you that offers a variety of senior residences, so you can find the lifestyle that's best for you. When you answer the call of the Kanata, you can expect a vibrant and active lifestyle that will keep you connected to a meaningful community.
We're proud to offer assisted living, memory support and short-term respite care services in beautiful Kanata, Ontario.
Symphony Orléans
In the heart of a modern city with a small-town feel, Symphony Senior Living Orléans prides itself on offering quality services that match the individual needs of each resident. Meet new friends and neighbors as the natural sunlight provides a backdrop for our spacious dining room. With plenty of senior suites to choose from, that warm feeling of home will be with you across our campus. From customized kitchenettes to walk-out patios, relaxed vibrant living is waiting at a Symphony Senior Living community near you.
Come and explore our assisted living or short-term and respite care services in Orléans Ontario.
Discover a Symphony Senior Living Community Near You
Finding the right place to call home, doesn't have to be a challenge. At Symphony Senior Living, you'll enjoy an atmosphere and philosophy that encourages every resident to find new passions that make each day special. Contact our team today to find a Symphony Senior Living community near you that can strike a chord with your ideal lifestyle.