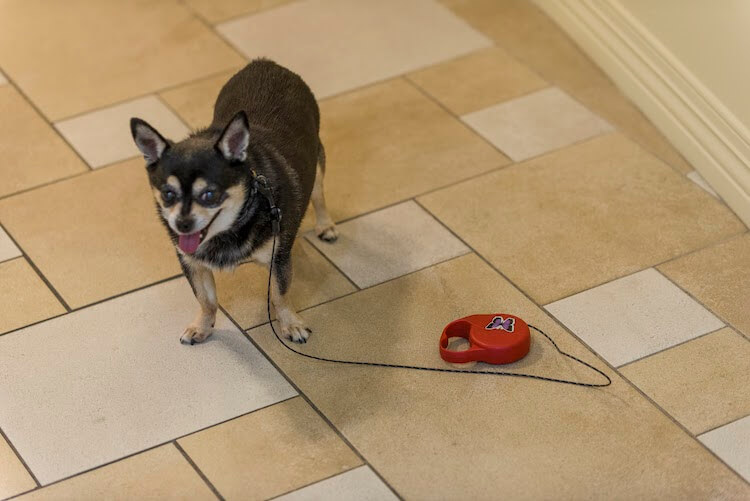 5 Tips to Help Prevent Pet-Related Falls
It's well-known that pets have a wide variety of benefits for seniors. You might be looking at your pet right now, as a warm feeling of companionship washes over you. But owning a pet comes with certain risks you should watch out for. According to the Centers of Disease Control and Prevention, there are roughly 8,000 hospitalized falls each year with pets as the root cause.
Now that doesn't mean you shouldn't own a pet; you just need the right senior fall prevention knowledge. It might come as a surprise that tripping over pets is a big problem for seniors. But with the right tips, you can lower the risk of a pet-related fall. Below you'll discover how to stay on your feet while enjoying the company of your four-legged friends.
Watch Your Step
We all know that dogs and cats often like to lay on the floor to relax or walk around to explore. But you shouldn't ever try to step over your pet. All it takes is one sudden movement or hesitation to cause a fall. The next time that you find your pet in your way, do your best to make them move so you have a clear path. It may seem tedious at first, but it's far less inconvenient than a trip to the hospital. Remember, preventing senior falls is all about lowering risk wherever you can.
Work on Your Balance
No matter how well trained your pet is, you can't always be in control of their behavior. So, why not try improving your balance? Building your balance is a staple of senior fall prevention and increases your chance of catching yourself should you trip over your pet. A good place to start is having your doctor perform a balanced assessment. Once you have a starting point, there are a variety of ways to improve your balance.
Look Into Getting a Dog Walker
Did you know that roughly one-third of pet-related falls happen outside when walking your dog? Many seniors find themselves tripping over their pets as it becomes more difficult to walk them. If you're becoming more concerned about falling when going for walks, it might be time to hire a dog walker. It will give you peace of mind and give your dog more exercise, making them calmer at home.
Pay Attention to Your Pet's Habits
Anyone with a pet knows that certain habits develop on their own. For example, your pet might follow you underfoot as you walk into the kitchen to feed them. While behaviors like this are adorable, they also increase your risk of a fall. But preventing senior falls that can happen because of your pet's behavior can be fixed with the right training. For example, training your pet to wait in another room while you get their food could help lower your risk of a fall.
A Little Training Goes a Long Way
Speaking of training, if you're worried about tripping over your pets, some training can go a long way. There are a bunch of small behaviors that increase your risk for a fall that training can address. From jumping on top of you to nipping at your shoes, there's no question that a more obedient pet means fewer falls. If you can teach your pet boundaries, it can be a major help in preventing senior falls.
Explore Pet-Friendly Senior Living
If you're thinking about adding a little extra peace of mind to your life, Symphony Senior Living can help. And we didn't forget about your trusted companion. Every Symphony location is pet-friendly, so your beloved pet is there to experience this exciting new chapter with you.
Contact our team today to learn more about one of our pet-friendly senior apartments!