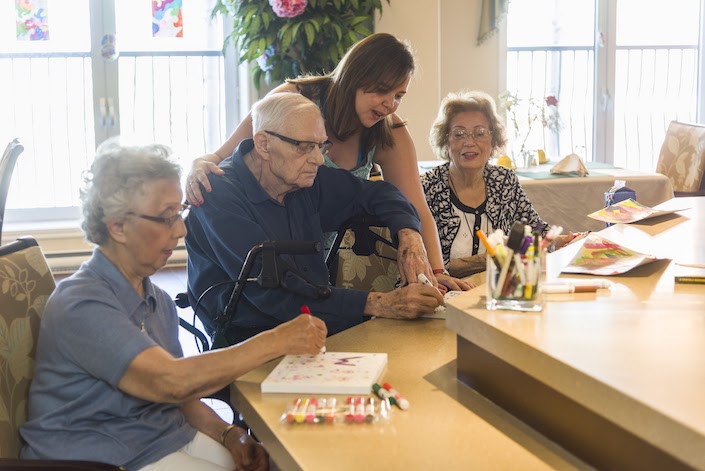 The beauty of art is that it's a relaxing and meaningful activity no matter how you choose to create it. It's a celebration of your freedom of expression; where the hardships and complexities of world seem to melt away as you showcase your emotions without words.
Think of that time you found a simple comfort while painting on a canvas or drawing a picture and the calming feeling you experienced. Often led a by a professional art therapist, art therapy for seniors has only grown in popularity – and that's a good thing. The benefits of art therapy for seniors go well beyond the relaxing feeling. Join us in learning about all the wonders art therapy for older adults has to offer.
A Natural Mood Booster
One of the best benefits of art therapy for seniors is how it improves your mood. If you or your loved one is dealing with the early signs of memory loss or other age-related challenges, it's natural to feel stressed or anxious. But with art therapy, all your focus goes towards the creative process. This free expression has been shown to lower anxiety and stress.
After becoming a regular routine, art therapy is a treasured activity that gives you something to look forward to. Art therapy for seniors gives people a natural creative outlet. By having a healthy and creative outlet for your emotions, you may be less likely to hold onto frustrations.
A Journey of Self Discovery
Art therapy for seniors can serve as a key to unlock a wealth of feelings you may have never realized were there. Creating art can help you recognize feelings that have been hiding in your subconscious. For people suffering from memory loss, this can be very important. Having no other way to express themselves, these seniors can use art to tell the world their feelings.
You don't have to be naturally artistic to experience the benefits of art therapy. By letting your creative side takeover, it's amazing how much you learn about yourself. An art therapist can even take a look at your creation and help you uncover the feelings and thoughts underneath. After all, personal growth does not have an age limit. Think of art as a universal language that you can use to tell your story.
Helping to Manage Pain
The benefits of art therapy for seniors can be physical as well. As people naturally age, issues such as arthritis, hypertension and other forms of chronic pain can develop. But did you know that art therapy can help reduce inflammation and joint stiffness. By participating in regular art therapy, your fingers, hands and arms might become stronger. After all, art is a physical activity that can improve blood flow and has a positive effect on dexterity.
While art therapy won't cure you of chronic pain, it can definitely help manage it. Every brush stroke, line drawn, or pot sculpted is helping you build a healthy habit to manage pain. And what adds to the beauty of art therapy for seniors is that anyone can do it.
Builds Social Connections
It's not uncommon for us to become more isolated as we age, even if you live in a community. Isolation can lead to depression as your sense of purpose begins to wane. But one of the benefits of art therapy for seniors is building social connections. Art therapy is often conducted in a group setting. It's a great way to learn about your friends and neighbors as they pour their personality onto the canvas.
Experience a Vibrant Life at Symphony
At Symphony Senior Living, we dedicate ourselves to creating a vibrant lifestyle for every resident – no matter the level of care needed. That's why programs like our art therapy classes are such a high priority. See what you or your loved one's vibrant lifestyle can look like by scheduling a tour or contacting us today.