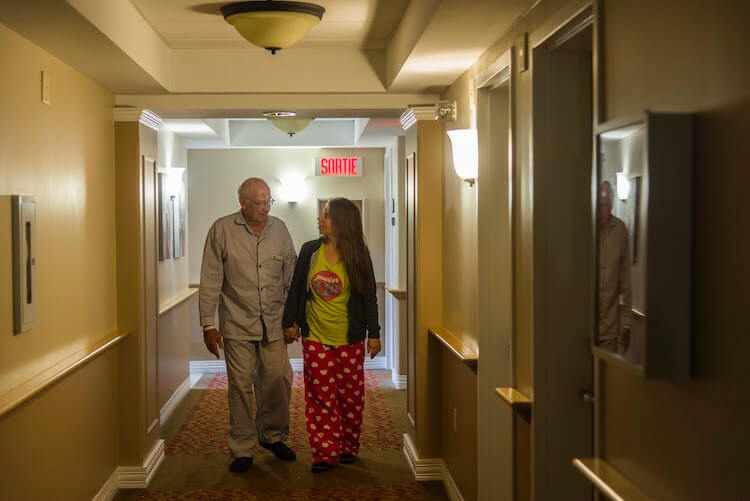 While winter gives us the warmth of the holiday season, it can be tough for your loved one with Alzheimer's and dementia. The days are shorter, which means there's less natural light and the sun sets a few hours earlier. As a result, sundown syndrome is more common this time of year.
If your loved one has Alzheimer's or dementia, chances are you've experienced some of the mood and behavioral changes that are part of the disease. Sundown syndrome falls under that category. You want to help your loved one, but you want more information before jumping in.
Alzheimer's and dementia can be tough for caregivers, and sundown syndrome can add an extra challenge. But you're not alone. In this post we're going to explain what sundown syndrome is, common symptoms and how you can help your loved one manage the condition.
Defining Sundown Syndrome
It's important to note that sundown syndrome is not a disease. It's more like a group of symptoms that occur at a certain time of day. As the sun sets, people with Alzheimer's or dementia can become more confused and irritated.
Think of sundown syndrome as a higher state of confusion that amplifies some of the symptoms of Alzheimer's or dementia. Sundown syndrome often comes with periods of increased anxiety, sadness, frustration and even hallucinations.
Sundown syndrome is different for everyone, so it's important to understand your loved one's routines and mood. Not sure if your loved one suffers from sundown syndrome? Keep reading to learn more about the symptoms you can expect.
Symptoms of Sundown Syndrome
If you're loved one is going through sundown syndrome, you'll want to watch their behavior. When they are "sundowning", are they following you around? Are they asking you the same questions over and over again? Do they lose their ability to communicate and have difficulty understanding their thoughts?
These behaviors are some of the classic signs of sundown syndrome. As a caregiver, you should also be on the lookout for your loved one trying to "escape" or leave their home. Many of the symptoms of sundown syndrome are behavioral based. As a caregiver, it can help to record your loved one's behavior during this period, so you know how to best assist them.
Some of the other common symptoms of sundown syndrome include:
Anger or emotional outbursts
Restlessness, including wandering and pacing
Depression and crying fits
Paranoia and delusions
Time of Day Matters
The symptoms of sundown syndrome usually start in the late afternoon and can go through the night. What can make sundown syndrome tough is that it can cause you and your loved one to get less sleep. While inconvenient, lack of sleep can cause the symptoms above to get worse. That's why it's important to know how to help soothe the symptoms so you don't get caught up in a cycle.
How to Manage Sundown Syndrome with Your Loved One
If you're a caregiver of someone with Alzheimer's or dementia, you know that patience can go a long way. It's important to try and practice patience when using the following techniques while managing sundown syndrome.
Diet Matters: Do your best to limit the amount of sugar and caffeine your loved one has during the day. This can help promote better sleep.
Stay on a Routine: For adults with Alzheimer's or dementia, a structured routine can do wonders. Work towards having your loved one got to bed on the same time, as well as scheduled times for exercise and activities.
Build a Calm Environment: When it gets close to sundown, try your best to limit distractions. Work towards having a quiet and peaceful space your loved one can relax in.
Be Flexible: Alzheimer's and dementia affect each person differently. It's important to be flexible and change your approach based on what your loved one is personally experiencing.
Discover More Moment that Matter at Symphony Senior Living
At Symphony Senior Living, our memory care program takes a person-centered approach. Care and activities are shaped around individual needs. We're proud to offer memory support whenever you need it.
Contact our friendly team today for more information about our memory care programs. Or if you just need a break, don't forget to ask about our short-term stay options. Together we can help you loved one stop appreciate more moments.