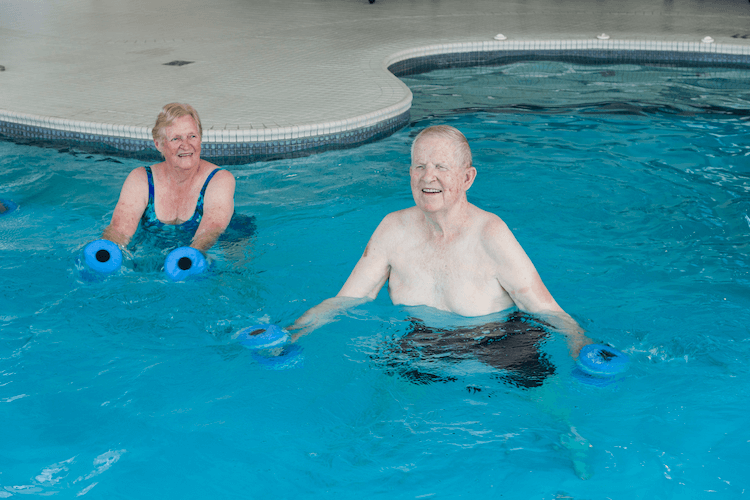 Warm weather often means more possibilities for seniors. From enjoying walks in the park to going to the beach with the grandkids, being outside is the source of so much joy. But once the leaves fall and the cold weather takes over, it can be more challenging to stay active.
When it's cold outside, many people have trouble thinking of winter activities for seniors. But the truth is, there is plenty of opportunity to continue the active lifestyle you enjoy. After all, staying active has a wide variety of health benefits for seniors.
While the roads and sidewalks might be slippery with snow, we're here to help you regain your footing when it comes to seniors staying active. In this post, we're going to help you brainstorm some winter activities for seniors that you could do today!
Why Seniors Staying Active is Important
Before we dive into the winter activity ideas, it's important to take a moment and explain why it's important. As the weather gets colder, it's easy to think about taking a couple of months off from staying active. But it's important to stay active during the winter months. Doing so can help you:
Improve your stamina and strength
Reduce isolation and symptoms of anxiety
Boost your social wellness
Improve cognitive function
Decrease your risk for falls
Prevent common diseases like heart disease and diabetes
Now that we understand the benefits of staying active, let's look at a few examples of winter activities for seniors.
1. Go to The Gym
Going to the gym isn't just for college kids in their 20s. Many senior living communities and cities have their own gym that you can take advantage of. You'll have the freedom to exercise at your pace while access to a variety of equipment. Before you head over to the gym, it's recommended that you speak to your doctor. They help you figure out what exercises will work best for your unique situation.
It's important to remember to not push yourself too hard. Take things slow at first, and there's no shame in going for lighter weight. You can even go to the gym when it's slow to get used to it.
2. Swim at an Indoor Pool
Whether it's provided by a senior living community or a family member, get transportation to a nearby indoor pool. Swimming is one of the best winter exercises for seniors. It's a low impact exercise that is great for your muscles and joints. Another benefit is how flexible swimming can be. For example, seniors with limited flexibility can still swim. All you need is to grab a kickboard.
Swimming has also been shown to help people suffering from arthritis. But that's not all; being in the water can help you gain strength, balance, flexibility and can even improve your cholesterol level.
3. Start Walking
Walking is a classic exercise that seniors can do year-round. It's often preferred by seniors since you don't need any equipment, and it's a great way to socialize with friends and neighbors. Just because there is snow on the ground, doesn't mean you can't get creative. Take some time to think about some indoor walking spots that could be around where you live. Some of the common spots to walk indoors include:
Gyms with indoor walking tracks
Indoor malls
A local college between classes or on the weekend
Senior living communities
4. Attend Group Exercises Classes
If you're looking for winter fitness exercises for seniors, group classes are a good place to look. Many gyms, community centers, and senior living communities offer fitness classes for seniors to stay active during the winter. Some of the more popular classes include yoga, Zumba, tai chi and aerobics. Group classes are a great way to get into a regular exercise routine in the winter. You'll get more opportunities for socialization and meeting new friends.
Getting started with group classes is easy. Call your local recreation center or senior living community and ask about their senior classes.
5. Dance, Dance, Dance
Did you know that dancing is one of the most engaging winter activities for seniors? Whether it's an organized class or having fun with your grandchildren, all you need is some music and a little open space. Dancing is more than a social activity. Research has shown that can improve strength, muscle function, flexibility and balance in seniors.
Don't forget to stretch and warm-up before you start your next dancing session. It can help prevent pulled muscles and lower your risk of injury during the activity.
Stay Active at Symphony Senior Living
If you've been thinking about how you can stay active and socialize during the winter months, one of our vibrant senior living communities could be the answer. At Symphony Senior Living, we can give you the support to experience life at your full potential. Explore our communities or contact us today to learn more about all the activities that are waiting to be discovered.