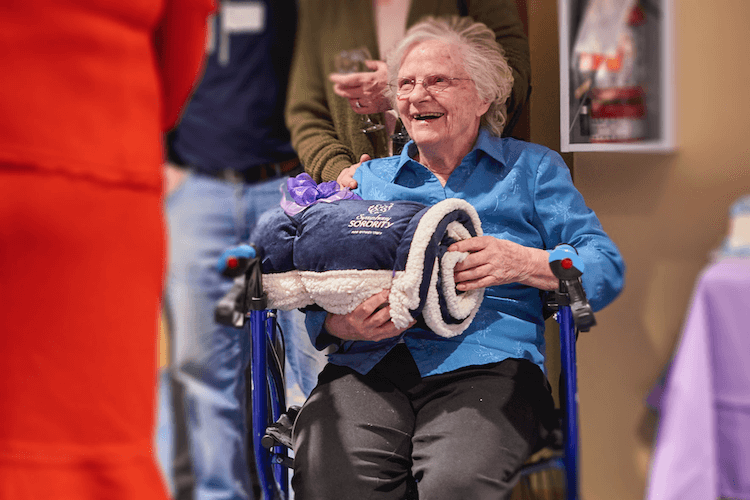 At Symphony Senior Living, we're known for our leadership and expertise in Alzheimer's and dementia care. In fact, we have over 25 years of experience helping seniors in need of memory support reach a higher level of wellness. After our success, we wanted to look into how we could take our personalized care to the next level.
We're proud to introduce our latest innovation in Alzheimer's and dementia, the Symphony Sorority. The Symphony Sorority is our memory support program designed to help women suffering from memory loss.
As part of our Sorority, all aspects of daily living for residents are tailored to the specific needs of women. Are you interested in learning more about the Symphony Sorority? In this post, we'll give you an inside look at the program and what inspired the idea.
"Is solace anywhere more comforting than that in the arms of a sister."
– Alice Walker
What Inspired the Symphony Sorority?
This unique memory support concept was first thought of by the Executive Director at Forest Valley. He noticed that some of the ladies we were serving were more comfortable around other women. From there, the idea took flight after another employee told us of a senior back in her hometown that used to hold sorority meetings for people she went to university with.
The bonds she formed as a young adult carried a meaningful connection throughout her life. We wanted to help foster that same level of comfort for the women at our community with Alzheimer's and dementia.
Women and Memory Loss
Did you know that women are more likely to struggle with Alzheimer's or dementia than men? And we know that this devastating disease can prompt the mind to turn back time. The Symphony Sorority is a space where women can feel safe and relive the old memories that make up the foundation of who they are.
3 Ways the Symphony Sorority Redefines Memory Support for Women
1. We Provide the Comfort of Home
As Alzheimer's or dementia progresses, women will start to live more and more in the moment of time where they feel the most comfortable. In the Symphony Sorority, our staff gets to know each resident on a personal level to learn more about their story. From there we can work to provide a home-like feeling designed to maximize comfort.
Even our environment is meant to evoke feelings of comfort through:
Cozy decor that feels familiar
Women-centered life skills stations
Plenty of space to explore
Safety and security features that you can trust
2. Our Caring Staff and Approach
Our Symphony Sorority team is uniquely trained in Alzheimer's and dementia care. But our memory support goes to the next level by being based in each resident's needs. The staff at Forest Valley Terrace takes every available measure to slow the progression of memory loss.
Through our experience, we've learned that there are steps we can take to improve a resident's quality of life. We use proper nutrition, physical and mental activity, medication management and health monitoring to help sorority members thrive. It's our goal to support residents by inspiring more freedom instead of restrictions.
3. Engaging Activities
One of the most common questions for people looking for memory support is about the activities. The activities offered to Symphony Sorority residents are all created with women in mind. Each activity residents can do in the sorority is focused on helping them trigger positive memories.
For example, one of our most popular activities is residents making their own meals and setting the tables for meals. Activities like this help inspire feelings of purpose and belonging. After all, we want all the sisters of the sorority to feel at home with us.
The Symphony Sorority is Here and Your Loved One is Welcome
After creating the Symphony Sorority program, we've learned how special the bond between sisters can be. If you're looking for memory care near you, choose a place that's more than a community. Our sorority is a place of growth and comfort for women.
Do you have a woman in your life that is in need of memory support? At Forest Valley Terrace, we'd love to hear your story. We're dedicated to supporting not only the life of your loved one but the lives of their families as well. Contact our friendly staff at Forest Valley Terrace for more information about how your loved one can join the Symphony Sorority.