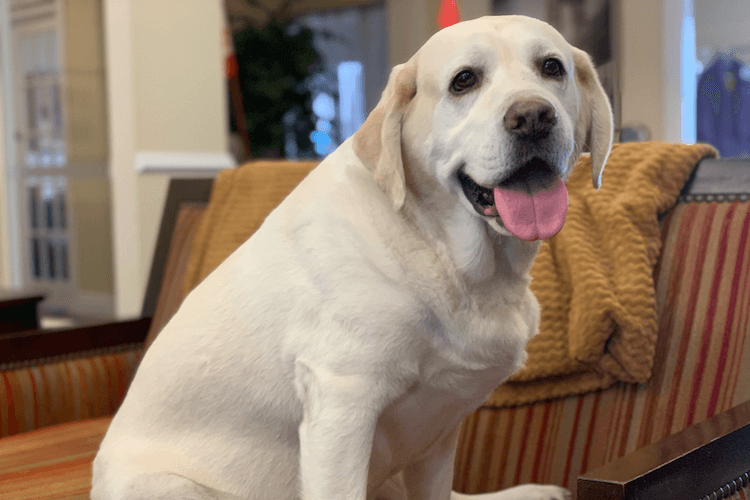 Everyone knows that warm feeling you get when you come home, and your pet is waiting for you. Their genuine excitement just puts a smile on your face. But there's so much more that our furry friends can do to improve your well-being, especially if you or your loved one is considering a senior living community.
And pets have research on their side.According to the National Poll on Healthy Aging, pets help seniors enjoy life and feel loved. If you or your loved is thinking about moving to a senior living community, you'll want to make sure your new home is pet-friendly. In this post, we're going to explore some of the best benefits pet-friendly senior living has to offer.
1. Help Prevent Loneliness and Isolation
When you or your loved one first move to a senior living community, it's common to feel lonely before you make friends. But being able to have a pet can help you feel a sense of companionship and familiarity.
Instead of feeling lonely or depressed, you'll have a loyal friend to support you through the transition. Plus, meeting other residents with pets is a great way to break the ice and make new friends. If one pet isn't enough, be sure to explore Symphony Senior Living. Our senior living communities have no restrictions on the number of pets you can have. So, bring all your furry friends!
2. Pets Can Help Prevent Heart Disease
Have you spotted an emotional support animal at the airport or out shopping? It seems like there are more support animals every day. That's because pets can actually help lower your blood pressure and reduce stress. It's been proven that spending time with a pet can lower blood pressure which helps you prevent heart disease.
This amazing benefit is why so many senior living communities offer pet therapy. With the right training, pets can even comfort you during times of high stress.
3. Keep Your Mind Sharp
There's no question that finding ways to keep your mind sharp is important for seniors. And the more you keep your mind active, the more your overall wellness will be. Caring for a pet can help you keep your mind sharp.
The responsibility of taking care of your pet and keeping up with their routine provides a structure to keep your mind active throughout the day. This process of caring for your pet can also help you prevent the early symptoms of Alzheimer's and dementia. Your level of care shouldn't determine if you can have pets or not. At Symphony, we have many memory care residents that have pets. And our staff will even help your loved one take care of them.
4. Increase Your Mobility
Our furry friends like to be active. From taking your dog for a walk to playing with your cat, pets help you keep your body moving. Part of their magic is that pets actually encourage you to get up and get moving more often.
For example, we all know that going for a daily walk has amazing health benefits for seniors. But sometimes, finding the motivation to do it can be tough. Your pet gives you a reason to stay active. And seniors who are physically active live healthier and more fulfilling lives.
5. Pet Friendly Senior Living Makes It Easier to Socialize
Think about the last time you saw a pet when you were out. Chances are, it became a natural conversation starter. You went up to admire the pet and started talking with the owner. That's part of the magic of pets for seniors. And at Symphony Senior Living, you don't have to worry about getting rid of your pet. Our communities have no weight, size or breed restrictions. We want your furry friend to enjoy our community as much as you.
It's not always easy to make new friends as an older adult. But with a pet, you'll spend more time being out and about in your senior living community. The more you're out, the more opportunities you have to socialize with other residents.
Discover Vibrant Pet Friendly Senior Living
At Symphony Senior Living, we know how special pets make our lives. That's why we're proud to offer pet friendly senior living. After all, it's our mission to provide the highest quality senior living services in the country. And pets are an important part of accomplishing that goal.
And there's no need to worry if you or your loved one isn't able to take care of a pet. Every Symphony community has a resident dog and cat that's taken care of by our staff. That way, you'll never miss out on the enjoyment and benefits of having a furry friend!
If you're interested in learning more about our pet friendly senior living communities contact our team today. We're happy to hear your story and tell you how Symphony can help you write the next vibrant chapter.