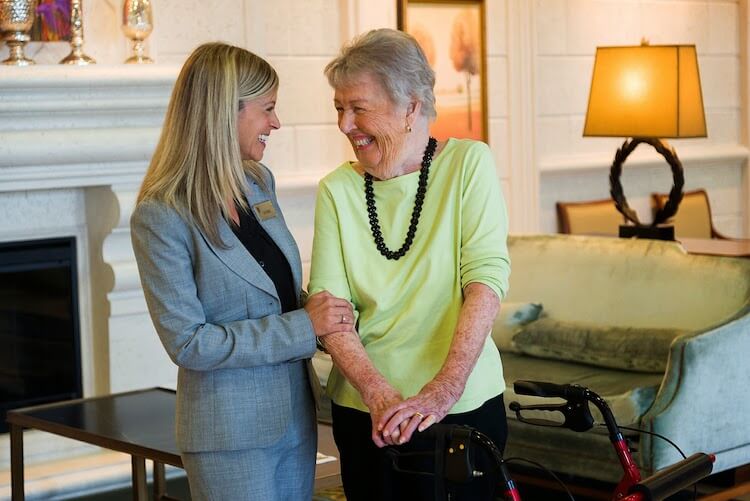 Did you know that about 1 in every 3 adults in the U.S. act as a caregiver? There's no question that being a caregiver for your senior loved one can come with its fair share of challenges. But your loved one has always been there for you, and you feel like it's right to return the favor.
There are times when the demands of caregiving can start to feel overwhelming. And while that's completely normal, you might be left wondering how to deal with the caregiver stress and anxiety. What makes this situation more difficult is that your stress doesn't just have an impact on you anymore.
Now when you're stressed, it can affect the quality of care your loved one receives. That's why it's important to find healthy ways to reduce your caregiver stress. In this post, we're going to show you how to cope with caregiver stress, so you and your loved one can have a higher sense of wellbeing.
5 Ways to Relieve Caregiver Stress and Anxiety
1. Look for the Silver Lining
When you are caring for a senior loved one, there are bound to be setbacks or bad days. It's easy for these setbacks to have a real impact on your mood, causing more stress for you to deal with. But you should try looking for a silver lining. Most bad situations have a positive that you can focus on.
For example, let's say your senior loved one needs more help with daily activities such as cooking and cleaning. It's natural to see the extra responsibility as stress. But you can focus on the benefit of being able to spend more quality time with them.
2. Talk About How You're Are Feeling
When you're caring for a senior loved one, it's easy to bottle up any frustrations and feelings. You might even feel unappreciated as you continue to care for your loved one. But you don't have to hold onto these feelings by yourself. Find a family member or friend that you can talk to.
By talking to someone else about how you're feeling, you'll get a new perspective and insight on the situation. Plus, your friends and family can acknowledge all the effort you're putting in. Part of coping with caregiver stress means finding positive reinforcement for the help you provide.
3. Try and Maintain a Healthy Balance
When people talk about caregiver stress and anxiety, it often comes from the feeling that it's taking over their life. Being a caregiver is an important job, but it can't be your sole or main focus. There are many examples and studies that show mental health benefits of finding balance.
Caregiving does not have to take over your life. Make sure to find time for other things in your life that give you purpose. Whether that's time with family, exercise or other hobbies that you're passionate about.
4. Practice Self Love and Appreciation
When you're a senior caregiver, your loved one won't always express their gratitude. But who says that all the acknowledgement you receive has to be external? Remember to give yourself credit for all the ways you're helping. It's important to take breaks and tell yourself that you're making a difference through your own efforts.
Self-love and appreciation are not easy things to do, it takes practice. A good way to start is to set aside a couple minutes each day and write down all the ways you're helping your loved one. With enough practice, you'll be doing it automatically throughout the day.
5. Look into Short-Term Stays and Respite Care
Needing a break every once in a while, is a natural part of being a caregiver. Short-term stays can give you and your loved one a nice change of pace. Many senior living communities like Symphony, offer your loved one expert care when you're on vacation or just need a break.
The best part is that your loved one will be treated like any other resident of the community. They'll enjoy engaging activities, have their meals taken care of and enjoy all the amenities the community has to offer.
Reducing Caregiver Stress is Easy with Short-Term Stays at Symphony Senior Living
Now that you have an idea on how you can cope with caregiver stress, look into the short-term stays offer at Symphony Senior Living. Each of our four communities can support you and your loved one.
Nobody knows your loved one better than you. But if the caregiver stress and anxiety become a bit too much, we're here to help. We'll take the time to get to know your loved one, so they receive the personalized care they expect. Learn more about our short-term stay services by contacting our friendly team today.