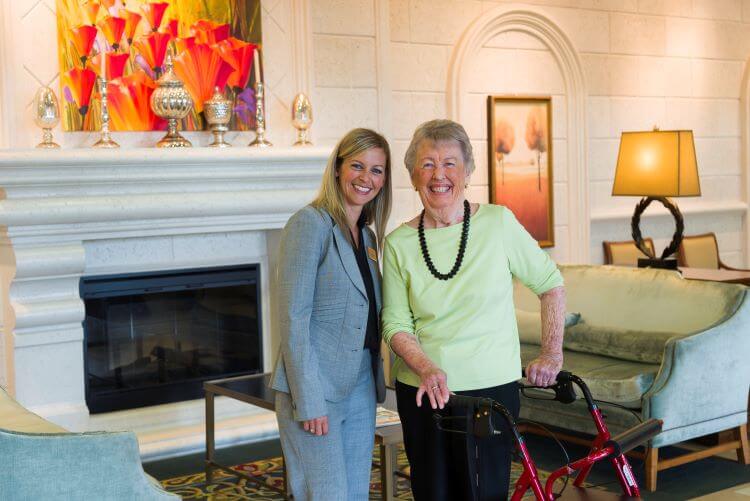 You know that being a caregiver for your parent or senior loved one can be a full-time job at times. But helping your loved one have a healthy and engaging lifestyle makes it all worth it. The only problem is that many senior caregivers often forget or don't take the time to take care of themselves.
Although it might be hard to see when you're in the full swing of a daily routine, self-care is important. After all, it helps your loved one almost as much as it helps you. When you're busy and have a caregiving responsibility, it's an easy thing to overlook. However, you might have found yourself thinking about self-care more often.
As coronavirus (COVID-19) continues to have an impact on the country, it's caused many of us to start thinking about our own health and wellbeing. In this post, we're going to explain why self-care is so important for senior caregivers and some steps you can take to improve it.
Self-Care Doesn't Just Benefit Yourself
When you talk to a senior caregiver about self-care, it's common for them to emphasize that their loved one's need come first. But the truth is, practicing good self-care can improve the life of not only yourself but your loved one too.
Let's take a minute to think about that idea. For example, maybe you don't currently exercise because of your caregiving responsibilities. Think about what could happen if you started. Getting regular exercise would improve your mood, give you more energy and build strength and endurance. With a boost like that, your senior caregiving responsibilities would be easier, giving you more time to spend with your loved one.
Some senior caregivers have the mindset that practicing self-care is selfish. That taking their attention away for their loved one is wrong. But there's no need to feel guilty for taking time for yourself. In fact, self-care often helps senior caregivers provide even better support for their loved ones.
3 Self Care Tips for Senior Caregivers
1. Practice Good Hygiene
In the wake of COVID-19, hygiene and your immune system are even more important. If you were to get sick, you wouldn't be able to help your senior loved one. Plus, you want to do all you can to lower their risk for the virus. Here a few good rules of thumb to follow:
Wash your hands for 20 seconds before assisting or touching your senior loved one.
Be sure to clean or disinfect common touch areas in your home at least one a day. Door handles, light switches, bathrooms and counters are a good place to start.
If you have to run errands for your loved one such as grocery shopping, try to wear a mask to limit your exposure to COVID-19.
Practice social distancing and do your best to stay at least six feet away from other people when you're out.
2. Give Yourself Time to Relax
Finding time to unwind or enjoying a hobby is basic and powerful tool of self-care. You can't expect yourself to "on call" with your loved one all the time. When you overextend yourself, your level of care could actually decline.
The silver lining with stay-at-home orders and social distancing is that you'll have more time each day to relax. A good tip to help get you started is to schedule a half hour of downtime each day. When it's on your calendar, you're more likely to make it happen. You can use this time to meditate, exercise, and pursue a passion or hobby.
Giving yourself an opportunity to reset can help curb senior caregiving burnout.
3. Practice Gratitude
As a senior caregiver, you know that appreciation or a simple "thank you" goes a long way. Chances are, COVID-19 will have you spending more time with your loved one. And it's only natural for some frustrations to arise when your together more often.
Practicing gratitude can help you and your loved one keep a positive mindset during these difficult times. Look for opportunities to thank your loved one. And don't forget that you can pat yourself on the back for a little boost. By taking more moments to stop and appreciate yourself and your loved one, you'll be building a stronger relationship.
Keep Your Senior Living Search Going
There's no denying that COVID-19 has given us all new challenges to overcome. It's also a great opportunity to reinvest any extra you have into your senior living search.
At Symphony, we know that being a senior caregiver isn't always easy. But once you see your loved one thriving in a vibrant lifestyle, all the work and extra hours are worth it. And our senior living communities want to give you more of those moments.
From assisted living, to memory care and short term-stays, we can help your loved one find purpose in each day while giving you peace of mind. Contact us today to learn more about the meaningful moments that are waiting for your loved one at Symphony.