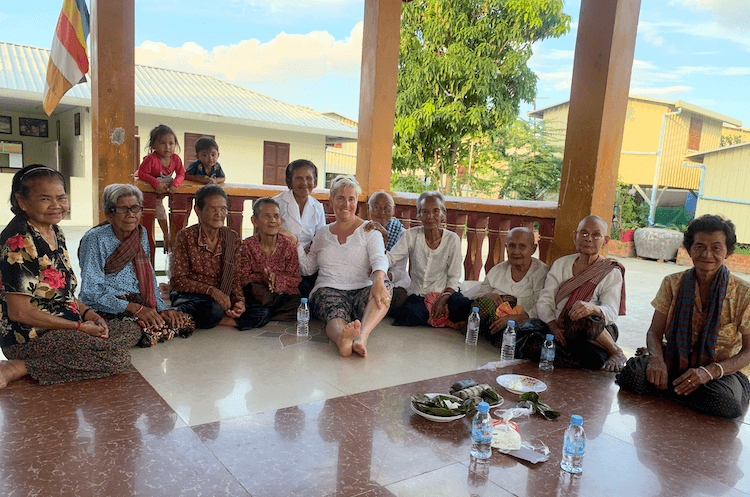 The passion to help other knows no boundaries. And there's no question that coronavirus (COVID-19) has changed our day to day lives. Given the nature of the virus, seniors are one of the highest-risk groups. As a result, senior living communities and older adults across the country are doing their best to limit their exposure.
Unfortunately, some seniors don't have the same luxuries and safeguards many of us have. For years now, Symphony Senior Living has been supporting the "Grannies" at the Cambodian Children's Foundation (CCF). When COVID-19 hit, seniors struggling in impoverished communities in Cambodia were faced with another challenge to overcome.
At Symphony, we know how challenging it can be for seniors to stay safe and healthy during these extraordinary and difficult times. Keep reading to explore how Symphony and the CCF are helping seniors overcome the risks that COVID-19 is bringing to their communities.
The Impact of COVID-19 for Those in Need
For seniors living in poverty, COVID-19 has brought new challenges and harsh situations. In the communities that the CCF serves, there are major concerns. Many of the grannies are over 80 years old and they live in cramped housing and not able to self-isolate which puts them at greater risk for contracting COVID-19.
The CCF is doing all they can to help these seniors lower their chance of infection and maintain their health and wellbeing. But as the epidemic continues surge on, it was clear that they would need help.
Scavenging and COVID-19
Many of seniors in the communities where the CCF offers assistance rely on scavenging. They will pick through garbage to find recyclables to sell to warehouses for money to buy food for their families. But due to COVID-19, many warehouses have stopped buying recycled materials.
The virus has caused border restriction with the neighboring country of Vietnam where most of the recycled material is sold. Under normal circumstances, someone could get up to ten dollars a day by scavenging — and they need at least five dollars per day for food. Ever since COVID-19, many seniors can only afford to buy one dollar of food each day.
Support from Symphony Senior Living
At Symphony Senior Living, we're proud to help support the Granny Program at CCF. The Granny Program helps seniors in Cambodia that have lived through the Khmer Rouge genocide (1975-1979) and have suffered major personal tragedy and lost many, if not all, family members to that war. These seniors are "hired" by the CCF and act as the eyes and ears of their communities. They let the CCF know about children and other people who need assistance and in return, the seniors receive clean water, rice, a weekly living stipend and access to medical care.
But once we heard about the impact COVID-19 was having on the seniors of these Cambodian communities, we wanted to do more. Symphony Senior Living donated an additional $5,000 to offer support to the ten "Grannies" we sponsor and other seniors at the CCF.
As a senior living community in Canada, we know just how much of an impact COVID-19 has had in the lives of older adults. We embrace the philosophy of "Go Global, Think Local." It's our way of doing all we can to improve the lives of seniors in our communities and seniors abroad.
Join Us in Supporting the CCF During this Crucial Time
If you're interested in following our lead, explore the CCF website to learn more about your donation options – a little goes a LONG way! The seniors in Cambodia need your support during this very difficult time. Want to know more about how Symphony is working on our "Go Global, Think Local" philosophy? Head over to our Corporate Giving page . You'll even get to see a video from the CCF talking about a recent celebration they had to honor their success.
Through our collaboration and support with the CCF, we gained a greater understanding of the value that comes from helping seniors in need. If you or a loved one are in immediate need of assisted living or memory care services, we're here to help.Click here to learn how we work hard to provide senior timely care based in compassion.