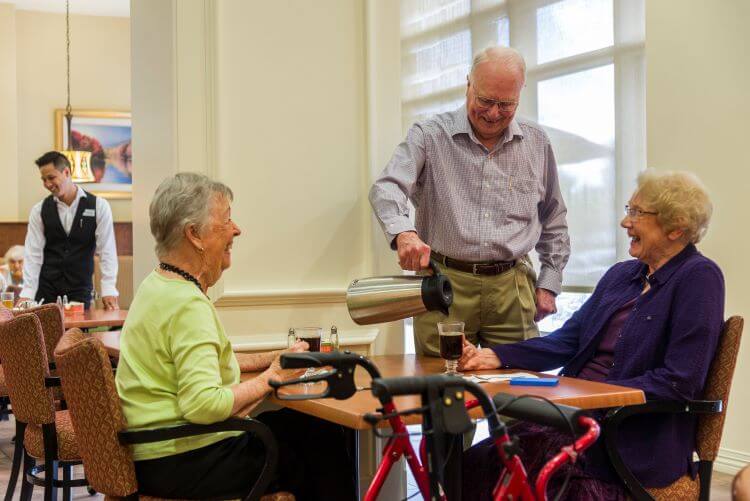 Caring for your loved one can be extremely rewarding. But as satisfying as it can be, sometimes a break is necessary. Especially right now, amid a global pandemic, caring for your loved one can become more difficult than ever. It can be challenging to continue to care for your loved one when your plate is overloaded, and you start feeling run down.
Self-care is giving the world the best of you, instead of what's left of you.
— Katie Reed
Once you take some time for yourself, you'll be able to take care your loved one that much better. But what is your family member supposed to do for care while you're away? Whether you're taking a trip or just want to see if a certain senior living facility is right for your loved one, respite care may be the answer you're looking for. Here, we'll talk about what short-term care is, three benefits of short-term senior living, and how to get respite care for your family member.
What is Short-Term Care?
Short-term care, or respite care, is exactly what it sounds like. It's a temporary stay in senior living, designed to provide care for your family member while allowing you to take a short break from your responsibilities. It's normal to feel guilt over placing your loved one in respite care, it's often necessary to take some time for yourself so you can care for them to the best of your abilities after. Besides preventing caretaker burn out, short-term care has several different benefits.
Benefits of Respite Care: 3 Ways Short-Term Care Helps Your Family
1. Improves wellness.
Studies show that family caregivers are at risk for developing chronic illnesses, brought on by the stress of complex caregiving situations. These illnesses can show themselves physically, mentally, and emotionally.
This isn't to say that your loved one is causing you stress, but many people are unprepared for the ins and outs of making the switch to a caregiver for a family member. When these illnesses show, they can lead to missing work, putting stress on your family, and hindering the care you provide.
Taking advantage of short-term senior living for your loved one gives you a chance to lessen your plate for just a moment so you can be well and be a better caretaker after.
2. Increases social interactions.
When caring for someone, it's easy to find yourself isolated from friends and your favorite activities, especially if you work a part-time or full-time job as well. Your loved one deserves thoughtful care and attention. Sometimes, in order to give that to them, you need to take a little time for yourself.
A short term stay option with Symphony Senior Living can give you the chance to catch your breath, all the while knowing that your family member is enjoying their time here as well. Our staff are both health care workers and companions — compassionate about those in our care while giving them as much independence as possible.
3. Gives you a chance to check out a facility for long term care.
No matter how much you love your family member, there may come a time where it's no longer possible for you to care for them. Maybe you need to step back into a full-time job. Perhaps your loved one needs around the clock health care but still wants to maintain their independence. Or maybe they just aren't getting the same social interaction as before.
If you want the chance to try a senior living community to see if it's a good fit for long term care, short term stays are a trial run. They give your loved one the chance to experience what it's like to live there.
How Long is Short-Term Living?
Short term care is flexible depending on your needs. It can range between just a few days to several months. Because of the flexibility of respite care, it's a great option for you and your family to either take a trip for the weekend or see if long term care with Symphony is right for your family.
Help Your Loved One Enjoy a Short-Term Stay with Symphony Senior Living
Not only does respite care help your family by offering you some time to recalibrate, but it also offers a wonderful experience for your loved one. Symphony Senior Living short-term care provides all the experiences of a full-time stay.
They can take part in a variety of activities with our enrichment program, an expanse of healthy meals that are full of flavor and a pet-friendly environment. If you don't live near our communities in Carleton Place, Kanata, and Orléans, we offer guest suites for family and friends who want to visit.
We are safely accepting respite stays with pre-cautions including a 14-day isolation period and a negative COVID-19 test result. Symphony Senior Living communities are the safest place for your loved one to be right now as our communities are COVID-19 free due to the extensive health measures we put in place from the beginning! We established infection control re-education, limit substantial activities involving the public and participate in active screening to keep your loved one safe.
Contact our team today to learn about the experience we can offer your loved one during their stay!