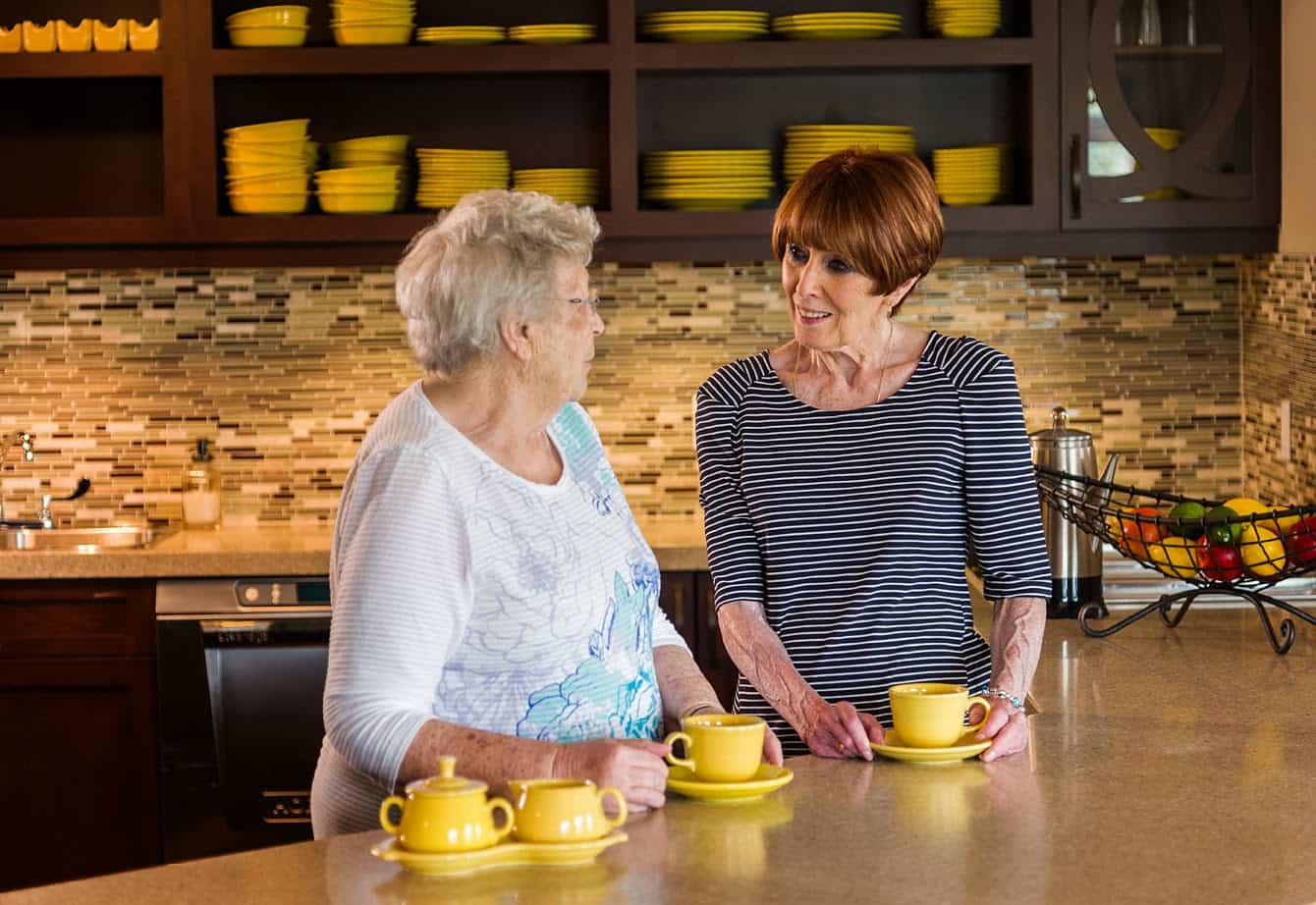 Do you remember some of the TV shows that you and your loved one used to watch? The Lone Ranger, I Love Lucy, The Andy Griffith Show, Batman and Bewitched might come to mind. All these shows from the golden age of television, have one key aspect in common: the main character had a partner who was along for the ride.
Whether it was Tonto or Robin, these partners helped the main character find some joy in each day. Wouldn't it be great if your loved one could have their own partner when they move into a senior living community?
That idea can become a reality when your loved one chooses a companion living option. Choosing the right senior living option for your loved one takes careful consideration. To help make your decision a little easier, we're going to breakdown the top reasons why companion living could be the best option for your loved one.
4 Reasons Why You Should Consider Companion Living at Symphony
1. It Helps Ease the Transition of Moving
Moving to a senior living community is a major life change for your loved one, and it's going to take some time for them to get used to it. But with Symphony's companion living, your loved one will have another senior who can give them support.
At Symphony, we'll take the time to find the right companion for your loved one. That way, from the moment they move in, they'll already have a friend to show them ropes. Hear what a loved one just like you had to say about it.
"My mom's roommate encouraged her to get out and about in the community. She took her under her wing. It was good for her. She needed that extra nudge."
2. Companion Living is More Affordable
We know that in today's economy, many families are looking for ways to make senior living more affordable. Having your loved one live with someone else is a great way to lower the cost of the care they need. Remember how much money you saved as a young adult by having a roommate? The same idea applies here.
Your loved one will save money each month, and that could help pay for any specialized care they might need. Plus, you'll have peace of mind knowing that your loved one is in a better financial position. We can even help you and your family has an immediate need for senior living services.
3. A Roommate Isn't the Only Companion Your Loved One Will Have
Part of what sets Symphony apart from other senior living communities is our stance on having pets to bring more joy to each day. But what if your loved one doesn't have a pet? There's no need to worry because each of our communities has their own resident dog and cat!
That means your loved one will a have a furry friend to keep them company from the first day they move in. All our community pets love spending time with residents. Plus, there are plenty of benefits that pets can offer your loved one in a senior living community. Pets are another way for your loved one to find meaningful connections at Symphony.
4. Companion Living Reduces Loneliness
Symphony Senior Living is all about helping seniors find more meaningful connections. And companion living can help your loved one feel less lonely and more connected. When seniors first move to a community, it's natural to feel isolated. But having a companion can help your loved one overcome these any negative feelings.
There's plenty of research that shows the more social connections a senior has, the higher their overall wellness. Your loved one's companion is someone that they can go with to Symphony events and activities. Once your loved one experiences their first connection, they're likely to find more.
Get an Inside Look at Symphony's Companion Living Today
It's our mission at Symphony to provide the highest quality senior living communities around. And our companion living option helps us reach that goal. If you're looking for the right senior living option for your loved one, our companion suites are a great option to explore.
Whether your loved one needs help with daily tasks or is living with Alzheimer's or dementia, we'll deliver exceptional care.Contact us today to learn more about companion living at Symphony. Your loved one has the opportunity to find more joy and connections each day.