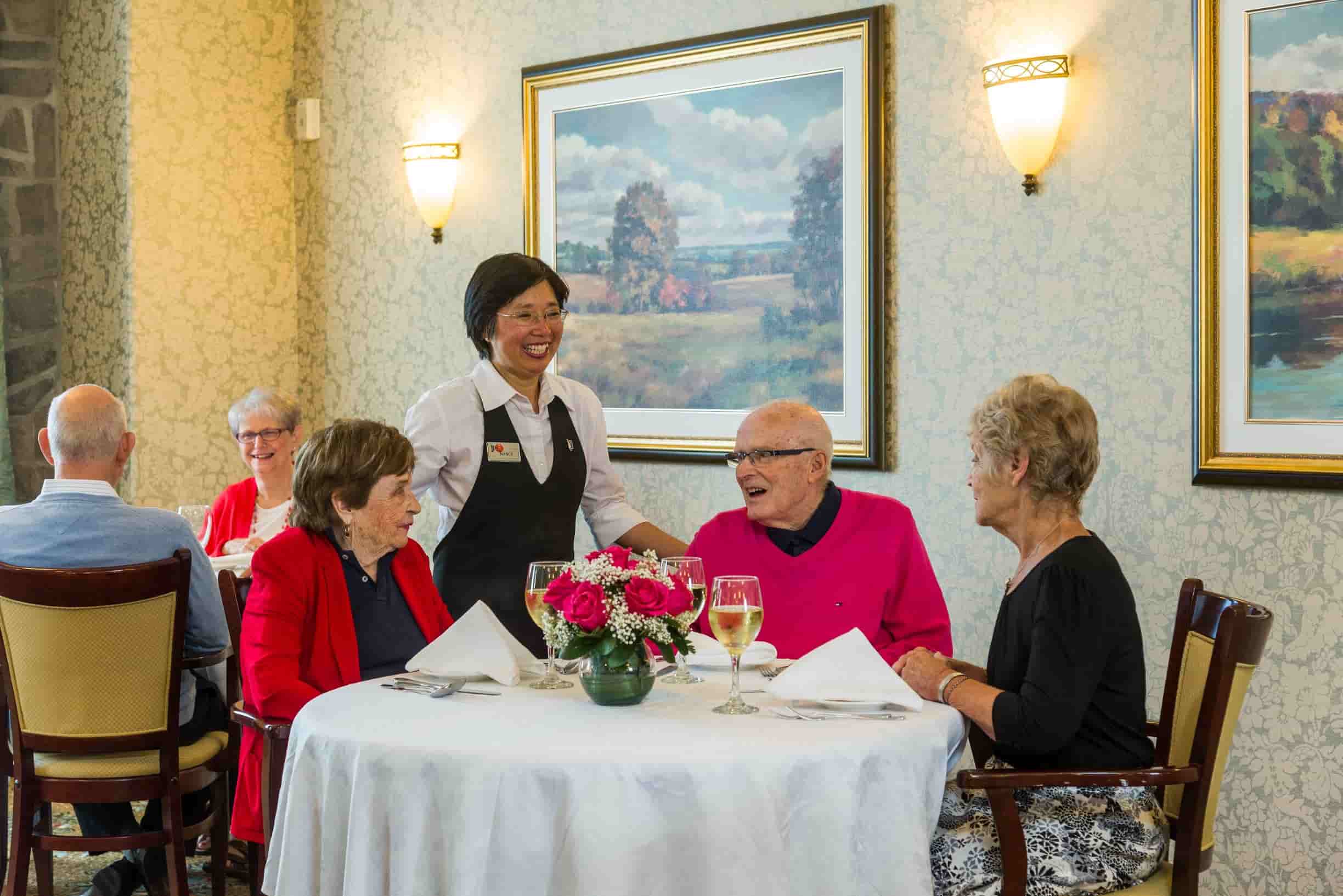 We've all seen them when we're out and about, enjoying a meal: foodies taking pictures of their meals with smartphones. A plate of beautifully arranged pork and scallion dumplings or a bagel loaded with colorful cream cheese, locks and scallions arrives in front of them, and they immediately whip out their cellphones to share photos on their social media pages.
If the idea of forever capturing an image of your meal doesn't make sense to you, you might start to understand it after your dining experience with Symphony Senior Living's Carleton Place Terrance community.
How Carleton Place Terrace Makes Healthy Living Easier through Dining
Symphony understands the importance of food to each and every person, and our Carleton Place Terrace community delivers an unparalleled fine dining experience. Our dining program is suited to each individual's needs and wants as well as any dietary restrictions. If you don't enjoy carrots, you'll never see the vegetable on your plate. Do you have a vegetarian palate? You won't have to worry about having meat given to you during mealtime. When you first move in, our team will complete a full assessment of your food preferences and dietary restrictions which we'll keep track of continually, so all your needs are met while still delivering quality nutrition and taste.
Carleton Place Terrace creates a full dining experience.
We believe that not only should dining be delicious, it should be beautiful, too! That's why Carleton Place Terrace decks out our dining room with clean linens and fresh flowers on every table. When you walk into our dining space, you'll feel like you've just stepped into a 5-star restaurant. It's all part of creating a warm and welcoming atmosphere for you or your loved one to enjoy.
Our food is always delicious and nutritious, and it comes in a wide variety of forms! Everything is homemade with love in-house by our Red Seal Chef and served by our friendly dining staff who are there to assist with your every need. Enjoy uniquely themed meals like Cinco de Mayo fiestas or our upcoming Thanksgiving turkey dinner. And because your needs are always met, if you'd rather have a simple, healthful sandwich during a special meal, we'll make that happen.
When you transition to memory care, excellent dining experiences still meet your needs.
Because we're experts in memory care, we understand that eating can be a stressful experience for those with different forms of dementia, so we want to ease any possible suffering that we can. That's why we've created smaller dining rooms that still provide the same excellent service. These scaled dining areas also play soothing music for residents and provide any skilled assistance they might need. We strive to provide an excellent dining experience for every single resident of Carleton Place Terrace.
Enjoy Delicious and Healthy Food Options at Symphony
We would love for you to come experience our delicious and healthy food options firsthand; however, we are currently limiting the number of visitors during COVID-19 to protect both our residents and our team members. But we'd like to arrange for you to enjoy a meal on us! Just give us a call at 613-253-7360 and ask for Liz.
If you'd like to learn more about how Symphony Senior Living promotes healthy living for each and every resident, contact us today.