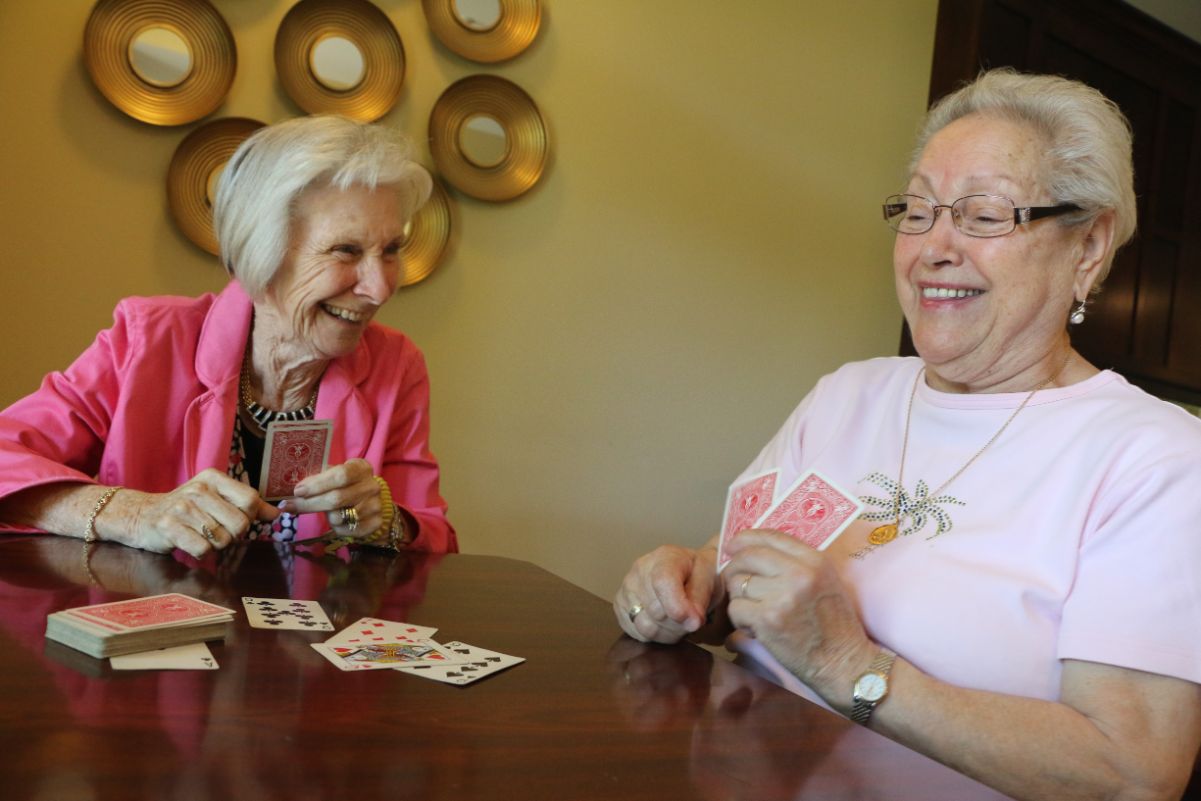 Oh, the weather outside is frightful,
But the fire is so delightful.
And since we've no place to go,
Let it snow, let it snow, let it snow!
That classic holiday song was written back in 1945 and has since spread in popularity all over the world. But here in Ottawa, we understand some of those lyrics better than others. "Oh, the weather outside is frightful…It doesn't show signs of stopping." On average, Ottawa receives about 223.5 cm of snowfall yearly, and we spend most of the winter in freezing temperatures. But that doesn't mean there aren't things we can enjoy during the cold weather. If there weren't, most of us wouldn't choose to live here!
In fact, there is a wide variety of fun indoor activities we can enjoy during the freezing months, even as we age. At Symphony, we believe that the activities below will get you having so much fun that you'll forget about the frightful weather outside.
6 Indoor Senior Activities to Try
Get coffee at the Feline Café. If you're up for braving the weather, knowing that hot coffee and a feline friend are waiting on the other side, the Feline Café is a wonderful place to visit. And if you happen to find a connection between you and one of their furry residents, Symphony is happy to have them join the community if you decide to adopt.
Take a trip to the National Gallery of Canada…through your computer. There's no reason to give up enjoying art once you reach a certain age. Now you can take in all of the beautiful visuals of your favorite artists with the National Gallery of Canada's Virtual NGC. Tour the gallery, view special exhibitions, explore your creative side and learn about the artists — all from the comfort of your own home.
Complete a new puzzle. If you enjoy a good puzzle, now is the time to breakout the jigsaw you've been meaning to attempt. Some studies even show that puzzles can help keep your mind sharp, so you can both occupy some time in the afternoon and get a good brain workout!
Watch a favorite movie. Winter often seems to be tied to nostalgia, so why take advantage of that and watch one of your long-time favorite movies? Spend an evening with a bowl of popcorn and Casablanca, Breakfast at Tiffany's, or even Lawrence of Arabia (although that film may require an entire afternoon).
Learn a new skill. Many of us are lifelong learners — retirement shouldn't change that. Use this opportunity to learn something new like knitting, watercolor painting or join in one of our many educational workshops to learn about something new. You'll have plenty of time this winter to work on honing your new skill.
Get your heart pumping with some exercise. Exercise is important all year long, at every age. But it can be easy for your efforts to wane during the colder months since it's more difficult to get outside for fresh air. However, there are plenty of fun indoor activities that you can turn into exercise opportunities. March in place while you enjoy your favorite shows. Take a walk around the community areas. You can even join in one of our many fitness sessions if you'd like something more social.
Enjoy Fun Indoor Activities at Symphony
Symphony Senior Living is a deep believer in keeping your mind and body active and engaged, and that doesn't change with the weather. That's why our Enrichment Program offers hundreds of opportunities every month to keep your mind, body and spirit engaged. Even in the winter, you can enjoy fun indoor activities like discussion groups, pub nights, live entertainment and more. Our Activities Coordinator works with every resident to help you design activities that you will enjoy all year long.
If you're ready to enjoy a fulfilling lifestyle through every season,contact us today. We're excited to introduce you to our vibrant community!