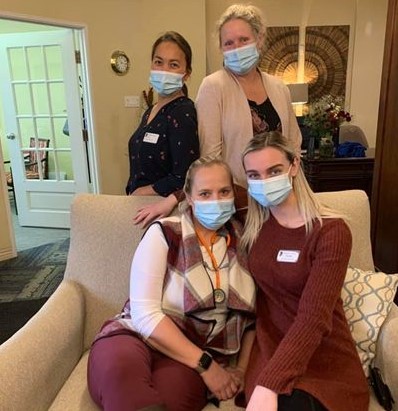 There's no question that coronavirus (COVID-19) has caused everyone to adopt a new normal. Whether it was a variety of arts and entertainment businesses put on hold or being separated from family members, everyone faced challenges. And for senior living communities, there were and still are a variety of unprecedented obstacles to overcome.
When the pandemic started to unfold, everyone at Symphony Senior Living was ready to respond and keep the safety of residents and staff as a top priority. And we're proud to say that Symphony Senior Living has had no confirmed cases of COVID-19 or significant illnesses. Keep reading to learn how our expert staff was able to accomplish this feat.
Jumping Right into Action
Symphony's response to COVID-19 leapt into action as soon as the dangers of the virus became known across Canada. We knew that being proactive with our protective measure would help us maintain the health and safety of residents and staff. That's why all four of our senior living communities:
Cancelled public events right away.
Developed a system to monitor and detect the symptoms of COVID-19.
Offered tray service to any resident who recently returned from travel.
Trusting Our Gut
In senior living, it's common for staff members to maintain various positions at different communities in the area. This gives staff flexibility with taking on more or less hours at different times. But with COVID-19, we knew this could be a major cause for concern. The virus could easily transmit from one place to another, so we knew we needed to ensure our residents are safety.
We came up with a plan to make sure our staff were getting enough hours working just with us. And thanks to the adaptability of our staff, our new staffing strategy was implemented quickly and effectively even before Public Health mandated it.
Acknowledging the Heroic Efforts of Our Staff
At Symphony, we know how challenging it can be for our staff to work through the COVID-19. As the situation with COVID-19 evolves, our staff members work with us to continue providing personalized care to our residents. To honor all that they've done during this challenging time, we created a platform for our staff to be recognized for all their hard work.
To show just how much their caring hearts did for our community, we encouraged residents and their families to share their stories on Facebook with us. Take a look at some of the messages we received to see the positive impact that our staff was able to give to the communities they serve.
The Backbone of Our COVID-19 Response
Our success during this challenging time can be directly attributed to the hard work of our staff and quick response of Symphony. Every day we witness examples of staff members' dedication to keeping the residents at our communities safe. And their tireless efforts have the support of the early implementation of health and safety guidelines.
Explore Our Premier Senior Living Communities
At Symphony Senior Living, we're dedicated to providing a safe and welcoming environment for older adults. But each of our senior living communities are still committed to helping residents reach and maintain a higher level of wellness.
Even through COVID-19, we've been able to have a variety of safe activities, like our Pen Pal program, to help residents stay engaged. To learn more about how Symphony can offer you or your loved one a premier senior living experience,contact our team today.