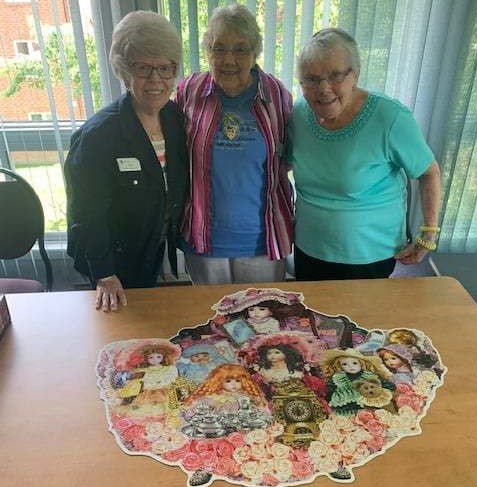 "I would rather walk with a friend in the dark, than alone in the light." —Helen Keller
A long walk in the sunshine, a hot cup of coffee, a bowl of popcorn with a classic movie — everything is better with a good friend. And that doesn't change as we get older. In fact, imperative to build friendships later in life so you can stay healthy and find more enjoyment in your senior years. When you surround yourself with people who help you to grow and give you support, you create a reliable support system to help you through life's ebbs and flows. And those friendships, whether new or old, become more and more important as you continue to age.
5 Benefits of Social Interactions for Seniors
There are a variety of factors that impact healthy aging, and friendship is one of them! Not only does it keep you connected to others, but it comes with a variety of benefits.
1. Friends can influence your healthy choices.
Do your friends make healthy meal choices, filling their plates with fruits, vegetables, lean protein and whole grains? If you eat with them, chances are you'll make similar healthy choices with your diet. But if the people you spend most of your time with load up on carbs and sugars, you may find yourself reaching for the same unhealthy options.
2. Friends can help drive away isolation and loneliness.
Loneliness and isolation are serious health concerns for older adults as they can increase the risk of an earlier death. They are also less likely to complete daily tasks if they continue to live in isolation. A wonderful way to stave off loneliness is to move to a senior living community where you'll be surrounded by peers every day and where neighbors quickly become close friends.
3. Friends keep your mind sharp.
Not only does loneliness effect your daily activities, but it can increase the possibility of cognitive difficulties such as dementia and mental illnesses like depression. Keeping a few good friends can help your mind stay healthy and active as you continue to age.
4. Friends keep you active.
When you don't have someone to keep you accountable, you're less likely to be physically active. It's much easier to allow your television to distract you and keep you at a standstill. Rather than letting the TV keep you bound to your couch, grab a friend and enjoy an exercise class.One study even found that social engagement can lower blood pressure. Friends keep you motivated to get up and get your heart pumping, no matter your mobility limitations.
5. Friends keep you safe.
Just keeping others close to you increases your level of safety. As you get older and your mobility decreases, your chances of falling rise. Having some close friends means having people to call should you need help quickly.
Discover How Enjoyable Healthy Aging can be at Symphony
At Symphony Senior Living, we believe that no one should feel alone. That's why we offer assisted living services to seniors who want to be part of an engaging community. We understand that your quality of life is directly to your overall health, and that includes your social wellness. Our Life Enrichment Program — designed by our Activities Coordinator — is filled with over 250 monthly activities to keep your social calendar well rounded and your mind engaged. Enjoy time with friends and neighbors at fitness classes, pub nights, educational workshops and more!
Come see what a vibrant social life can look like in your golden years. Contact our team today and start the next chapter in your life adventure.