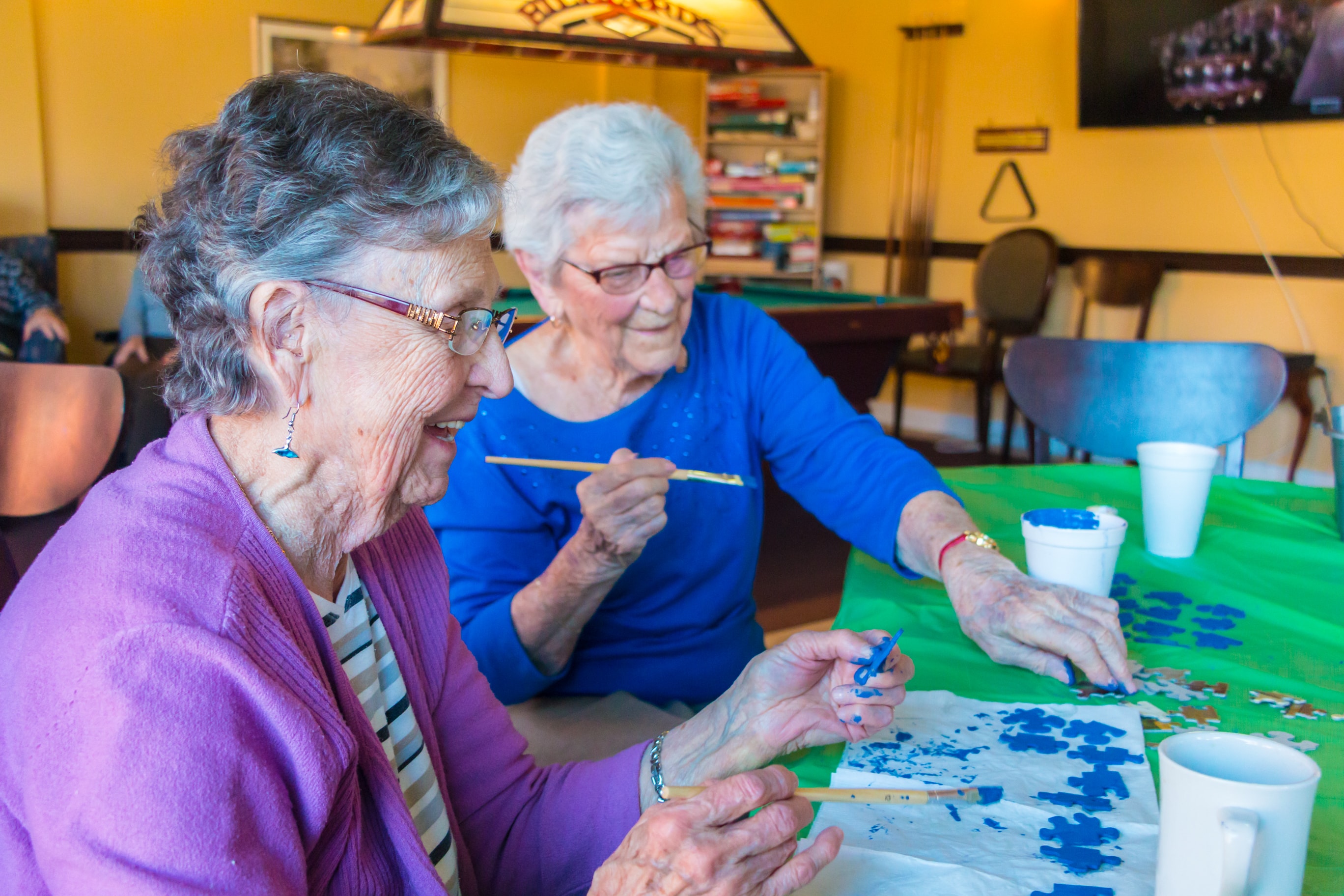 It's important to stay healthy as we age, and that includes keeping our minds sharp. You may have heard that "you can't teach an old dog new tricks," but in fact our brains are quite capable of changing and growing at any age.
However, they do need stimulation to continue adapting. That's why it's imperative to work lifestyle and daily habits and activities into your life so you can continue building cognitive wellness. When your brain is healthy, you can help delay cognitive issues such as Alzheimer's and other types of dementia. Below are a few things you can do for improving memory in older adults.
Activities for Improving Memory in Seniors
Card and Board Games. Games that encourage thinking and calculation are ideal activities for dementia prevention. Gather some friends and enjoy a rousing game of gin rummy, mahjong or Scrabble. If you prefer something a little more quiet, chess might be your preference. Whatever you choose, card and board games are excellent activities to add to your regular schedule to exercise memory muscles. Plus, since we're still staying socially distanced, you don't even have to play these games face-to-face. Many of these games can be played through mobile apps and websites.
Brain Games. Memory and cognitive skills are just like your muscles: They get stronger with use. When you don't feed your brain with new knowledge, it depreciates over time. Research shows that the neurons in our brains are stimulated by new information and events, so when you stimulate your brain, you can fend off memory loss. Brain games for seniors are a great way to do this. There are plenty of websites online for brain games, but you can also opt for working on crossword or Sudoku puzzles in your daily newspaper.
Reading. Picking up a good book is both entertaining and an easy way to stimulate your mind. Whether you choose fiction or nonfiction, reading provides information and encourages you to connect the dots in every story. Research has also shown a correlation between reading and longevity. Thanks to the internet, reading material is easily accessible — your favorite magazines, newspapers and even books can be found on your digital devices or computer. You can even rent them from your local library digitally! Whether you prefer to read on your tablet or with a paper copy, the important part is that you incorporate it into your day. For added benefit, talk to your friends and family about what you've been reading so you can further expand your memory bank.
Napping. Yes, you read that correctly. Napping can help boost your memory and cognitive function. In fact, research has found a link between napping and significantly improved memory. Now you have an extra excuse for that midday rest!
Learning a New Skill. Have you ever wanted to learn to play an instrument, try your hand at watercolor painting or snap pictures of your favorite surroundings? Learning a new skill is a great way to stimulate cognitive function for a healthy, engaged brain. All you need to do is find an activity that interests you, whether that's woodworking or crocheting.
Engage Your Mind with Vibrant Living at Symphony
Life at Symphony Senior Living means keeping your mind active through fun events and activities. Our Life Enrichment Program offers over 250 different opportunities every month to engage your brain. Activities are designed around residents' wide-ranging interests, so there's always something for you to enjoy. Participate in discussion groups, attend educational workshops, go on group outings post-pandemic or even join a club — whatever you desire to improve your brain function and memory.
If you'd like to learn a little bit more about life in one of our four communities in the greater Ottawa area, contact our friendly team today. We'll be happy to answer any questions you may have and show you that you or your loved one can have a bright and vibrant future here.