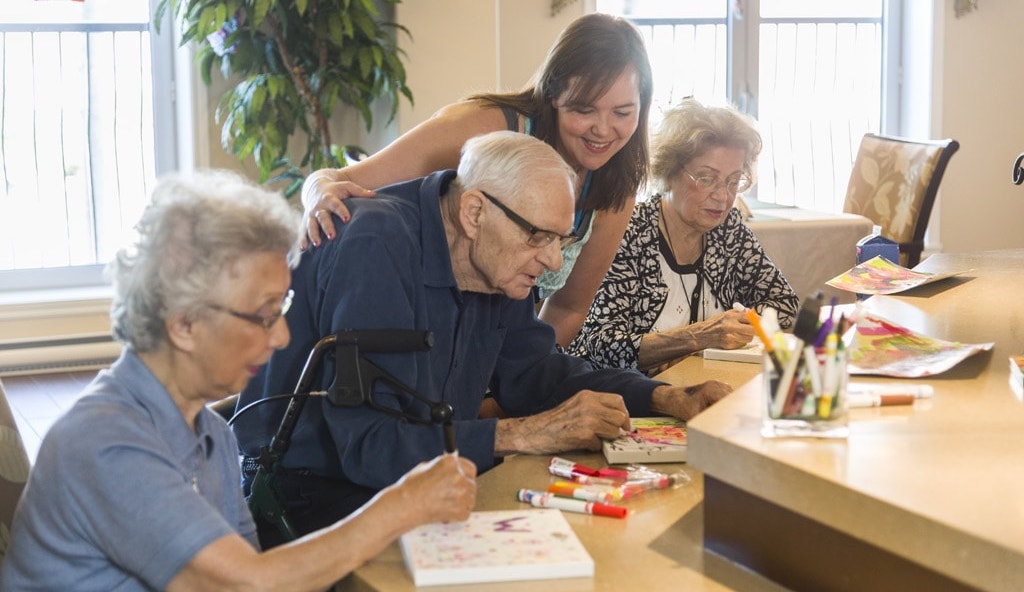 Some memory loss is inevitable when it comes to aging, but sometimes it becomes something more. Having a loved one with Alzheimer's disease means a lot of adjustment, from learning how to help them with daily tasks to new forms of communication to seeking the help of caring professionals. Life may change a lot, but it can also change for the better.
At Symphony Senior Living, our Alzheimer's care programs are matchless. Here, we're known for our leadership and expertise when it comes to dementia care. Below, we dive a little bit deeper into our Alzheimer's care programs in our memory care communities.
Our Alzheimer's Care Program: Moments
Every moment plays a significant role in a person's well-being. That's why our Moments Memory Care Program has been developed to meet each unique need of residents through every stage of Alzheimer's disease. This program focuses specifically on their need for companionship, understanding, respect, belonging and active decision-making by offering an array of support services for both residents and their families like those below.
Active Daily Living
When your loved one moves into our memory care community, they'll be met by an activities coordinator so we can gain a better idea of their care needs, abilities and interests, allowing us to make activity suggestions. And, of course, family members are always encouraged to join in so they can gain a deeper understanding of the progression of Alzheimer's. Daily routines are also a foundation of programming, as we understand that routine helps individuals feel consistency and a higher degree of self-worth.
Specialized Programs
We've worked to develop specialized memory care programs to help slow the progression of Alzheimer's disease and other forms of dementia, and your loved one can take advantage of these when they're part of our memory care neighborhood. They'll have a variety of options like hydration programs, special diets, fall prevention training, and physical and occupational therapies. "It's Never 2 Late®" is our program that uses fun and interactive computer technology for resident engagement, and Music and Memory℠ offers music from different chapters of their lives to improve their social and mental wellness — and both programs are readily available to your loved one.
Learning and Growing Life Skills
Recalling important memories from one's past is an important part of aging, especially when they've been diagnosed with Alzheimer's. To help your loved one relive these memories, we've created special activity stations called "Life Skills," which can be found throughout the memory care community. They can recall caring for their children with lifelike dolls, remember work or writing with a typewriter and even reenact getting ready for a special evening with vanities and clothing.
Individual Memory Boxes
Outside of each resident's suite is a memory box, filled with photos and keepsakes that tell others about their lives. This allows them to engage in meaningful conversation with others and find connecting activities.
Day and Night Owl Programs
When you're a caregiver for a loved one, you may find yourself needing a break or needing some help while you're at work. That's why Symphony offers our Day and Night Owl Programs — so your loved one can receive care and support while you're away. They can engage with others in the memory care neighborhood and even discover a place they can call home if they need to enter into full-time care in the future.
Discover Care and Support for Those with Memory Loss at Symphony Senior Living
At Symphony Senior Living near Ottawa, we believe that everyone deserves dignity and respect while receiving the care they need. That's why we continually cultivate programs in our memory care community that are supported by cutting-edge research from organizations like The Alzheimer's Society.
We provide hands-on experience, which allows us to learn more about each resident and further develop programs that allow them to have a fulfilling life and feel like themselves. If you'd like to learn more about life in our community and the programs we offer, contact our team today. We'll be happy to answer any questions you may have about our vibrant community.