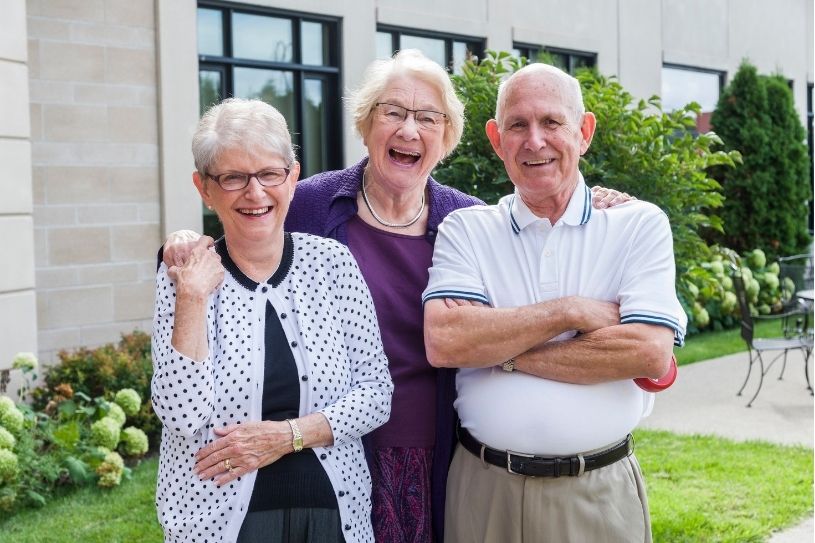 The world is changing, and the population of seniors is growing. Studies show that more than one in five people will be 65 or older by 2030. With this evident increase, it's important to keep seniors happy, healthy, and meeting their personal needs.
Many seniors live in senior care homes with other seniors that have similar interests or backgrounds. These communities help to reduce social isolation in the elderly, which can lead to depression and loneliness. They also provide a support network for when family members are unavailable or unable to care for them. Spending time socializing with others helps seniors maintain their mental well-being and even improve their physical health.
Senior living is a crucial part of long-term care. The decision to move into senior living doesn't always happen in the early stages of aging. Often it's a decision made once health begins to decline.
There are many benefits of independent living and possible challenges they face when deciding to live independently. The ability to still live as independently as possible in warm and inviting homes of their own is one reason to choose independent senior care. There is always the added benefit of having help as needed while still being in a growing community.
With the help of the staff members, the seniors are more likely to have a higher quality of life. They can live without any worries and concerns about their safety. The staff members take care of them so that they are not left alone in their own homes.
The staff at senior care homes are always available for support and assistance. They can offer transportation services for doctor appointments or any other errands that the seniors need to have done outside of the home. They also provide cooking, cleaning, laundry services which give relief to some seniors who may be unable to do this themselves because of health reasons.
The staff at senior care homes will also provide emotional support for those who may need it most – like those with Alzheimer's disease or dementia. Studies have shown that encouraging social activities for the elderly in senior care homes can reduce the risk of dementia, increase mental engagement, and help with memory. Independent living centres encourage collaborative lifestyles to keep seniors socially and independently active. Seniors are encouraged to go out for a walk during the morning, often accompanied by lunch or other light refreshments.
Seniors are not limited to interacting with each other just during mealtimes. These spaces can include areas where seniors can sit and talk together, watch television, read books, or play games. Social activities could consist of creating a library of books for personal use, participating in group discussions about topical events, or inviting a musician to perform a concert. There is always something to engage the community and keep seniors happy, healthy, and making new friends.
People with a high level of social contact have a lower rate of cognitive decline than those with low social activity by as much as 70%. Another important way to increase longevity is to give seniors a sense of purpose. Providing a sense of purpose can be accomplished in the community by allowing them to help others and make positive contributions. Seniors stay socially and actively involved additionally by teaching others skills like gardening.
Senior living communities at Symphony Senior Living are a high-quality living experience for seniors with various life-enriching activities planned out for them. Symphony Senior Living offers all seniors the privacy and personal space they may need and provides plenty of opportunities to socialize while living actively and independently.