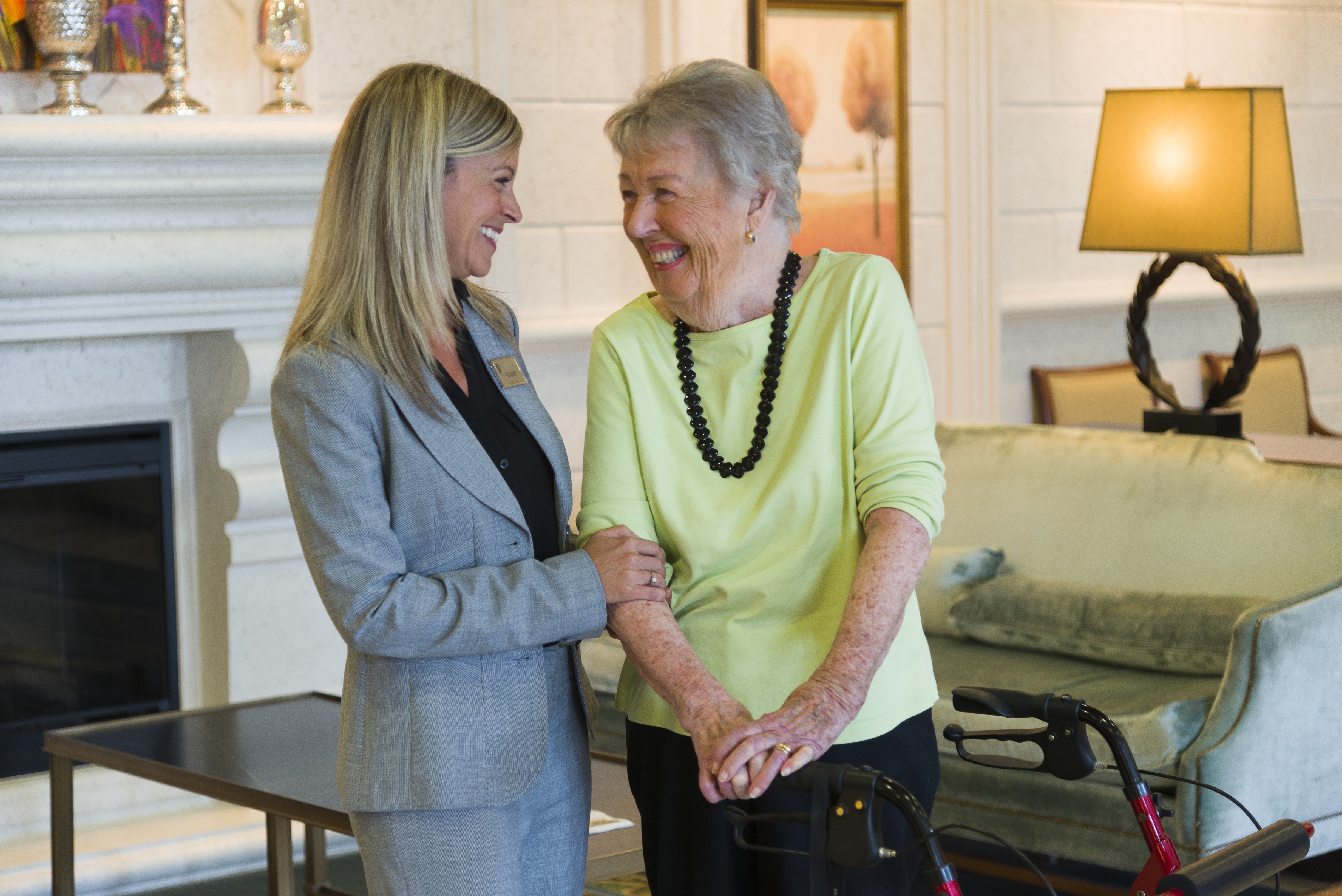 Assisted living facilities allow your loved one to live independently while providing around-the-clock support. While you love that your loved one has maintained their independence, you might worry about their fall risk. Rest assured, fall prevention training is a requirement for assisted living caregivers. Let's learn about caregivers' methods to keep your loved one safe.
Recognize Fall Risk Factors
The Center for Disease Control and Prevention (CDC) estimates that over 3 million older adults are treated for falls every year. While most don't cause serious injuries, fall death rates are increasing. Therefore, preventative education has become increasingly popular within resident care communities.
The first preventive measure is understanding who is at risk for falls. Here is an outline of significant risk factors:
A resident starts or changes to a new medication – It's critical to monitor a resident that has recently started a new prescription or altered prescriptions.

The type of medication – Pain, anxiety, and sleep medications lead to more falls.

Fear of falling – Unfortunately, falls often cause a fear of falling, which will lead to the individual being more erratic and susceptible to falls.

Malnutrition – If members isolate themselves or have trouble swallowing, they are more likely to have a fall accident. Caregivers work to provide a healthy diet and companionship to older adults.

Decreased sensation in feet – Residents with diabetes and feet sensitivity are more likely to fall.

Vision – Vision loss is a leading factor in elderly falls.

Hearing – Hearing loss is a factor that contributes to falls in the elderly.

Chronic conditions – Heart disease, osteoporosis, and cognitive disorders can make a resident more prone to falls.
These are not the only factors that contribute to elderly falls. Depression, environmental tripping hazards, and substance abuse are other risk elements. Aside from monitoring high-risk residents that match these components, other preventive methods reduce fall rates. Let's take a look.
Fall Prevention Methods in Assisted Care Living Facilities
Evidence-based fall prevention programs are most effective for reducing falls in the elderly. These programs can range from hours to months but work best with caregiver assistance. Most evidence-based programs bring educational insight about elderly falling and prevention for seniors. Some fitness-based programs focus on building strength and coordination to prevent falls. Other programs target the fear surrounding falls. If your loved one has experienced a dangerous fall, talking about their fears in a group setting will help.
Reducing common environmental safety challenges will prevent fall accidents. Assisted living caregivers are responsible for monitoring environmental hazards. These are their standard (and proven) safety methods:
Assistive device heights should be at hip length.

Dining room chairs should not swivel or roll.

Outdoor areas should be mobility-friendly.

Ensure that there are no cracks or bumps on the sidewalk.

Mark curbs and ramps.

Illuminate outside areas with lights.

Bathroom safety.

Ask for resident feedback about handrail placement.

Ensure motion sensor lighting is functional.

Clean resident's home.

Caregivers provide housekeeping services by decluttering and monitoring potential tripping hazards.
Above all, tripping hazard management depends on the resident. An assisted living caregiver must facilitate personalized needs.
Symphony Senior Living
Fall prevention in elderly communities is a team effort. At Symphony Senior Living, our medical and nursing staff curtail services with the individual in mind. We provide our residents with 24/7 nursing supervision. Your loved one will receive three delicious, nutritious meals every day. Housekeeping and linen services take place daily or weekly. Also, your loved one will have access to wellness classes, events, and group outings. In addition, our Never 2 Late cognitive exercise program is available to all residents. For more information, visit https://www.symphonyseniorliving.com today.