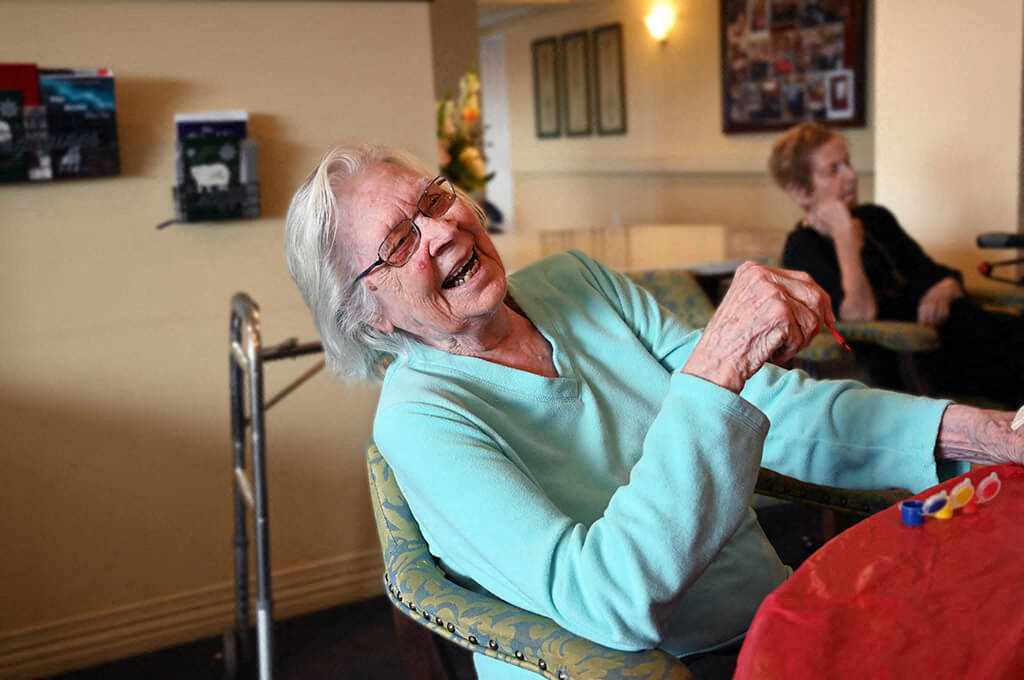 As you age, your concerns about life evolve. You might worry about material possessions or being invited to a party when you're younger. But as you age, your worries grow less superficial. You start focusing on your family and career. Then as a senior, fears turn health-related or about your independence. However, there are many things that seniors don't need to worry about in retirement communities.
What Do Seniors Fear Most?
It is very common for the elderly to fear losing their independence. This goes hand in hand with senior health-related worries. As our bodies start to age, we lose the ability to complete daily tasks, and we are met with many more medical anomalies. Senior living communities can calm these fears in a variety of ways. Let's explore the top 7 reasons seniors don't have to worry when they live in retirement communities.
7 Reasons Why Seniors Worry Less in Independent Living Communities
They Are Less Lonely
As we age, we often lose our closest loved ones and become lonely. This can cause extreme feelings of sadness, alongside mental and physical health concerns. Every senior needs to interact socially and feel they belong to a support system.
Independent living communities offer structured socialization with a group of peers. This enables seniors to be around others who understand what they are going through.
Regain Their Independence

Continuing to live an active life is an essential part of aging. This helps keep our mind and body healthy. When seniors can complete tasks independently or with minimal assistance, they regain their dignity. Living with others that treat you with respect and kindness will boost self-esteem and promote joy.

Medical Personnel Provide Security

Retirement communities offer independence that medical professionals monitor. This will give your loved one relief from health fears. If your loved one has mobility issues, they will not have to worry about falling. Someone will be available to assist with daily tasks and available in emergencies.

Save Money on Home Maintenance

When seniors choose to live in a retirement community, they will no longer worry about home maintenance costs. Maintaining a home is very expensive. Most seniors live on a fixed income and cannot pay these costs. In retirement communities, if the water heater goes out, they will not be responsible for paying for a new one.

No More Household Chores
Seniors that live in independent living communities will no longer have to worry about household chores. It can become very bothersome to mow the lawn or do spring cleaning. In a retirement community, seniors will have housekeeping and lawn care at their disposal.
Seniors won't have to worry about clearing snow from their driveway or cleaning out their gutters. This allows seniors to really get a chance to enjoy their retirement.
Delicious, Healthy Meals Provided
Senior living communities will guarantee delicious, healthy meals to their community members. Therefore, there is no worry about grocery shopping or cooking a healthy dinner from scratch. Every meal will be prepared for them with their dietary restrictions in mind.
Feeling at Home

Seniors often worry about leaving their forever homes to live somewhere new. Retirement communities like Symphony Senior Living make it a point to offer a friendly neighborhood that helps their residents feel at home.
Symphony Senior Living
Symphony Senior Living offers care and support that truly allows seniors to enjoy their retirement. This is a time that your loved one has worked for their entire life. They deserve to enjoy life without worry. For more information about personalized care packages, visit https://www.symphonyseniorliving.com/.