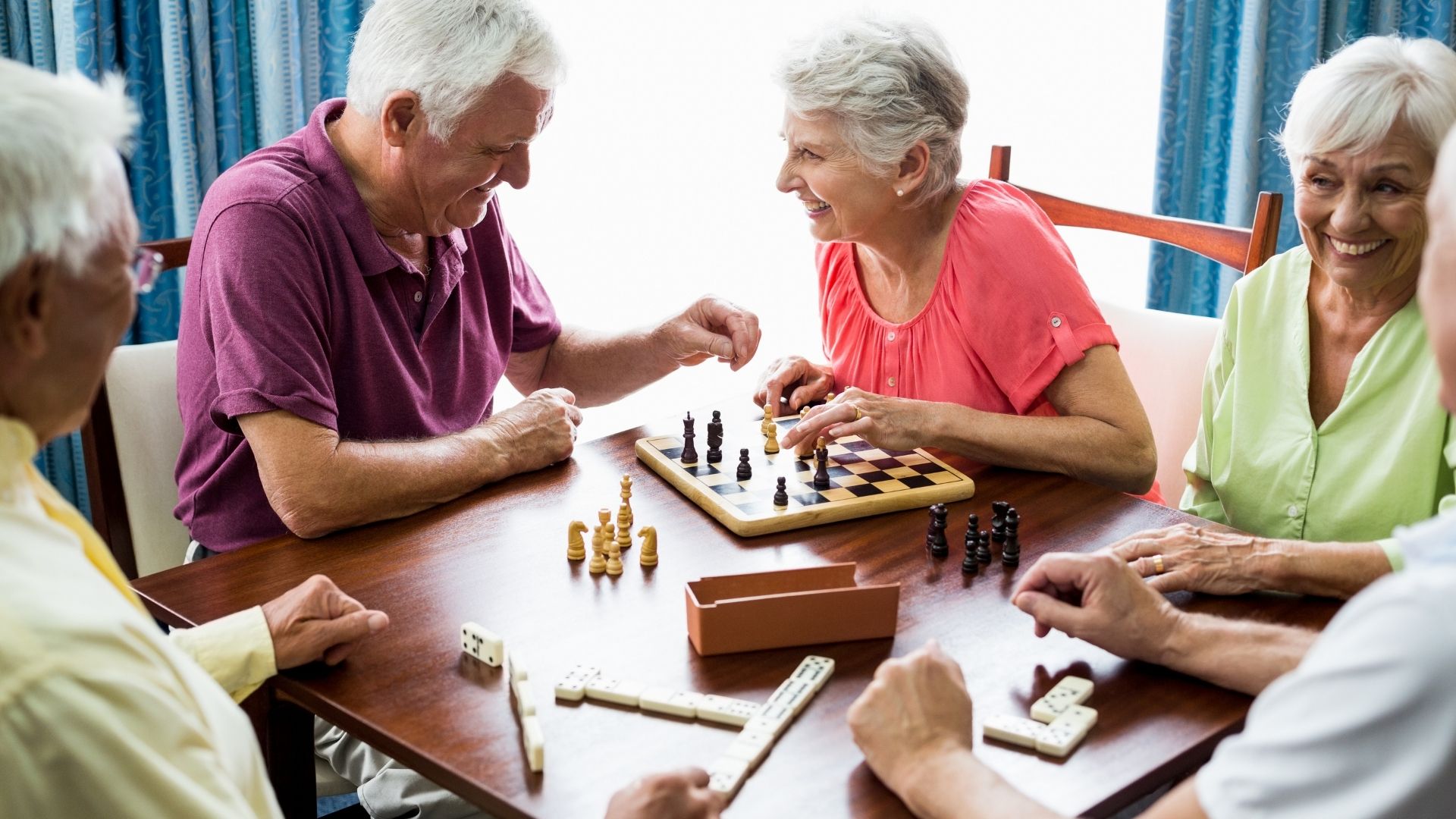 Scientists have long studied the effects different activities have on the brain, exploring everything from driving in a vehicle to floating in a spaceship. Through this exploration, we have discovered that taking part in acts of play affects neurobiology on a fundamental level. Incorporating these findings into assisted living programs has proven beneficial to the overall well-being of the residents.
As children learn, they require play to solidify different understandings within their senses. From emotional reactions to impulse control, play helps to develop self-understanding in ways we otherwise could not. As we get older, the need for play does not dissipate. In fact, regular play for adults and seniors can help to relieve pounds of stress, and even sometimes, physical pain.
When seniors engage in play, they are strengthening their brain function and working against the development of memory problems. Recalling the rules and methods of playing a game can help to keep the mind engaged, and often, playing the game can keep the body engaged as well. Seniors often love gardening and yard work, walking or jogging, and various lawn games.
Leaving Room for Fun at Assisted Living Near Me
When you are choosing an assisted living program, explore the options for games available within the community. There could be sports leagues that gather, and it could be a wonderful opportunity to connect with other people in the same age range. If you are planning a schedule for a loved one, be sure to leave time for fun and play. It can be instrumental in maintaining a positive outlook, an active mind, and a state of health.
Even playing checkers can be great for an aging brain. If your loved one has a hard time moving around, board games are probably the best way to go. Games like Headbanz create fun challenges that are still simple, without requiring anyone to get up and put unnecessary strain on the body. It's a good idea for family members to plan at least one day every couple of weeks to stop by and play a game with their loved one. Bonding with family members can provide a substantial mood boost, which is a powerful combatant for stress and sadness.
How to Have Fun at Assisted Living Facilities
Many assisted living programs, Symphony Senior included, have a range of different activities for seniors to take part in. There are fitness workshops, educational workshops, and in most cases there is an on-site activity coordinator who oversees the organization of each event. Community-wide social events keep seniors feeling like a part of a family, and always leave them with something to look forward to.
We have over 250 social opportunities every month in order to allow everyone in our communities to find something they enjoy. As discussed earlier, play is a quintessential factor in maintaining good health as we age, and it's always better with others. Being a part of a community is a very important feeling as well, and through our life enrichment program, we believe we've created substantial opportunities to create that for our residents.
In all of our retirement homes, Senior Symphony Living takes the well-being of our residents seriously. We know how important it is that our aging loved ones can live on their own terms. Everyone needs their independence, but everyone needs a little help from time to time, too. We have locations in Carleton Place, Kanata, and two in Orléans. If you want to learn more about any of these communities, visit us today! We are proud to serve our communities with a great deal of care for their overall health.