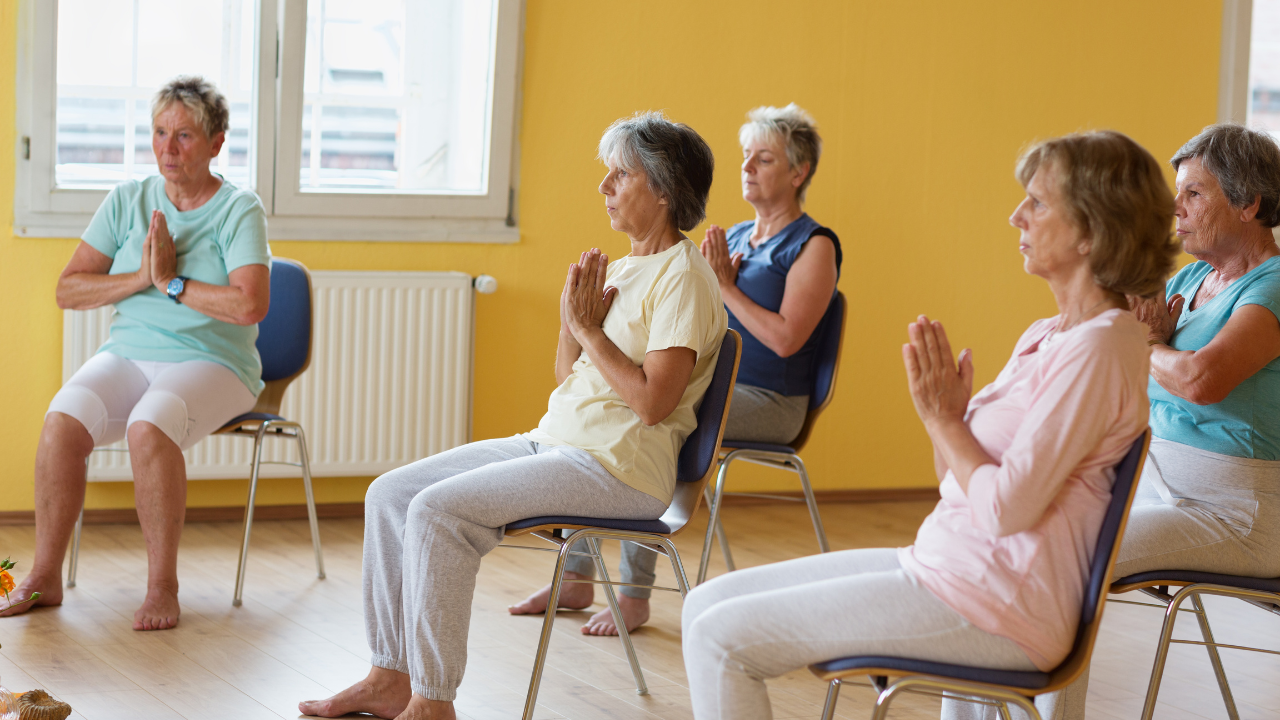 As we get older, we may find that our joints and muscles become stiffer, less flexible, or even painful for various reasons. Sometimes it could be arthritis-related, trauma from a past injury, chronic pain, or just the result of aging.
Unfortunately, as we age, it can be difficult to properly stretch or strengthen these parts of our bodies without causing more harm.
Luckily, chair yoga is an excellent and accessible practice for anybody, especially those struggling with mobility and chronic pain. Not only could these exercises and stretches decrease stress and stretch and loosen muscles, but they can also improve circulation, reduce anxiety, lower blood pressure, and more!
There are so many potential benefits to regularly practicing chair yoga. Here's how to get started.
What is Chair Yoga?
Chair yoga is just what it sounds like: practicing yoga while sitting or getting support from a chair. Chair yoga involves many of the same poses and muscle groups targeted in typical yoga but provides extra security for those who might need that additional support.
Chair yoga is much more gentle on the body than typical yoga, so those with physical disabilities and mobility challenges benefit from it.
Chair yoga is also ideal for people looking to start soft so they can get stronger without fear of injury. Perfect for injury recovery, too!
Chair Yoga for Seniors: Why It's Beneficial
Exercises of all kinds are highly recommended for people of all ages to stay healthy and fit, but seniors, in particular, can benefit significantly from them. Cardio, for example, is said to improve overall health and the effects of several health conditions.
However, whether it's the result of an illness, injury, or decreased mobility, many of these beneficial exercises are inaccessible for some senior citizens.
Chair yoga is the perfect choice for getting that daily activity in and potentially strengthening those muscles to take on more challenging tasks in the future.
One of the best things about chair yoga is the level of safety and comfort it provides. These movements are unlikely to cause any amount of pain outside of feeling some minor stretching, and you're unlikely to overexert yourself or get injured.
Because you're seated, you won't have to worry about balance or excessive strain on your muscle. Instead, you can continue doing specific stretches or exercises for extended periods, strengthening those areas further.
Chair yoga gives you much control over what you're doing, making you more confident as you get stronger.
Benefits of Chair Yoga
More than just strengthening and loosening muscles, the yoga of all kinds can promote joint lubrication so your joints can move easier with less pain and stiffness.
Checking in with your body regularly, even if you are just sitting down, can help you take stock of how you're feeling. For example, reminding yourself to roll your shoulders and stretch out your back is always good for fixing posture and alleviating pain.
Another significant part of yoga is the relaxing practice of meditation. Even if it's just closing your eyes and focusing on your breath at the end of the class, meditation has shown to be hugely beneficial for reducing stress, anxiety, and focus. It's also rewarding to clear your mind and be with yourself in the quiet, without anything else distracting you or clogging up your brain.
Another great thing about this type of yoga is that you can do it practically anywhere, even outside of class, as long as you have a chair. So keep track of what poses feel the best or what poses stretch the muscles you want to focus on more.
Whether you want to get more robust, flexible, or just more relaxed, chair yoga is an excellent option for senior citizens to get active and stay healthy!
To find more activities to do to enrich your mind, body, and soul, visit our Activities page for Symphony Senior Living here!
Symphony Senior Living is dedicated to providing comfort, assistance, and care to older Canadians, whether they join us in Assisted Living or Memory Care. We strive to provide kindness, care, and dignity to every resident who comes through our doors and reassurances to the people who love them. To learn more, visit us at https://www.symphonyseniorliving.com.